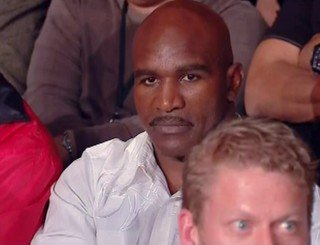 By Rob Smith: Evander Holyfield, 49, is hoping that one of the Klitschko brothers will give him a fight so that Holyfield can try and capture another heavyweight world title before he retires someday. Holyfield hasn't been ranked in the top tier for quite some time in the heavyweight division so it's going to be a tad difficult for him to get one of the Klitschkos to bite on his offer.
Holyfield said to Sky Sports News "They [Klitschkos] have got an opportunity to probably make the biggest payday of their lives fighting Evander Holyfield…With the Klitshkos, they aren't choosing to fight me, I've said I'll fight them. All they got to do is realize that both of us will make money, then we'll see who the winner is."
Ignoring the fact that this would be terrible mismatch and the Klitschko brothers would take heaps of criticism from boxing fans if they took this fight, A fight between one of the Klitschko brothers and 49-year-old Holyfield would still do really well in Germany where the Klitschkos fight. The Klitschkos could sell out one of their 50,000 seat football stadiums if they fought Holyfield.
The Germans would probably love this fight and come in droves. They loved the Shannon Briggs vs. Vitali Klitschko fight, as well as Wladimir's mismatches with Tony Thompson and Jean Marc Mormeck. Holyfield is about in their league, maybe a little worse in terms of what he's got left in the tank at this stage in his career.
A fight between Holyfield and the Klitschkos would make a lot of money, but I'm not sure that Holyfield's cut would be all that huge because he's not in a good bargaining position right now. Holyfield hasn't beat a high profile fighter in many years and he's lost each time he's fought for a world title in the past five years.