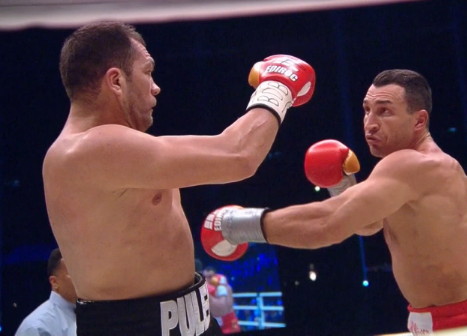 Wladimir Klitschko, by common consensus has been the Lineal Heavyweight Champion since 2009, but for the first time during his reign he has finally defeated his number one contender.
The Ring Magazine recognised Dr. Steel Hammer as the Lineal Champion the night he handed Ruslan Chagaev, the world's number three heavyweight, the first blemish on his record. Although this was a dominating performance against a highly ranked opponent, most boxing journalists and fight folk agreed that Wladimir's elder sibling Vitali was still in fact the "baddest man on the planet". So Wladimir, although the Ring Champion was not actually the best boxer in his family, let alone the ruler of the entire heavyweight division. When The Greatest danced around the ring, mesmerizing Cleveland Williams with Ali Shuffles and pummeling him with incessant combinations, he owned the division. When Iron Mike steam rolled Michael Spinks in ninety-one beautifully brutal seconds, we all knew who The Heavyweight Champion was, it was beyond doubt.
On December 15th, 2013, Vitali Klitschko retired from the sport of boxing. Eleven months later, on the 15th of November 2014 Wladimir Klitschko, the number one heavyweight in the world took on the world's second best heavyweight. Kubrat Pulev, at six-foot four inches and weighing two hundred and forty-seven pounds was undefeated in twenty fights and ranked above Bermane Stiverne according to both The Transnational Boxing Rankings and the Ring Magazine. After a brief, exciting fight, Wladimir ended matters with a vicious, single left hook to the jaw of Kubrat, a truly devastating finish. Finally, after the tenth defence of his Lineal title, Wladimir knows that he really is the Heavyweight Champion of the World.
How would Dr. Steel Hammer have fared against the legends of the past? It's now possible to make a reasonable case for Wladimir being at the very least competitive, if not beating any of the past heavyweight champions. If a tall power puncher like Foreman could brutalize Frazier then surely the Ukranian's long range hammer blows would also take their toll? If Bonecrusher Smith could wrestle his way through twelve rounds against a prime Tyson then you'd expect Klitschko to be able to manage to do the same. And if Archie Moore could floor Rocky Marciano, how would The Brockton Blockbuster have soaked up Saturday night's left hook?
Klitschko v 1953 R. Marciano – Rocky wasn't blessed with Ali's hand speed and he certainly couldn't slip punches like Floyd Mayweather. Marciano would give any fighter in history weighing up to two hundred pounds one hell of a fight, but with a sixty pounds and thirteen inch reach advantage, Wladimir would be just too big and too crafty to give Rocky any chance whatsoever. A few rounds of clinching and manhandling the previously indestructible American around the ring, and it'd be all over. Klitschko by stoppage in the sixth round.
Klitschko v 1966 M. Ali. – Ali almost always found a way to win. Prior to his enforced three-year absence from the ring Ali was unbeatable. The Greatest had a proven ability to absorb punishment from boxing's most formidable punchers (Liston, Shavers and Foreman had three of the hardest right crosses that any human being has ever had). His hand/foot speed, ring intelligence and fundamental will to win would be unlike anything Wladimir had met before. It may be dull, it may be close, but Ali would be victorious. Ali via a twelve round points decision.
Klitschko v 1919 J. Dempsey – Dempsey may rush and rattle Wladimir in the first round, but Jack was no defensive wizard, he was there to be hit. If the Manassa Mauler was around in the year 2014, and had the benefit of a Hall of Fame trainer, coupled with modern training/dietary advancements he may have been a more sophisticated, bulked up, two hundred and ten pounds wrecking machine. Then we would have a fight on our hands. Unfortunately for Jack, Dempsey was from 1919, and Wladimir's sheer size, strength and awesome knockout power would prove decisive. Klitschko via knockout in the second round.
Klitschko v 1988 M. Tyson – Iron Mike did have a Hall of Fame Trainer in Cus D'Amato and he did benefit from a greater wealth of dietary and training methods that John L. Sullivan, Jack Johnson, and Jack Demspey were oblivious to. Standing just five feet eleven inches, Mike Tyson was a two hundred and eighteen pounds block of muscle. His unpredictable lateral movement made him difficult to hit cleanly, and the speed and accuracy of his combination punching made his attacks frightening. Wladimir would not have a chance to settle into the fight. Tyson's fearless, lightning quick attacks would immediately force Klitschko into a defensive, clinching mode. Flustered and disorganised, a rabbit in the headlights. Tyson via knockout in the third round.
Wladimir cannot battle the heavyweight legends of the past, but with each fight he wins he adds credibility to those who say he would have beaten them. With each undefeated threat he humbles, and with each victory he adds to his championship reign he is continually crushing his critics. Dr. Steel Hammer is finally the best heavyweight in the division, or as Mike Tyson would have said, "the baddest man on the planet". In twenty years' time, whoever the heavyweight champion is, I have no doubt fans will say, "he wouldn't have gone six rounds with Wladimir Klitschko".