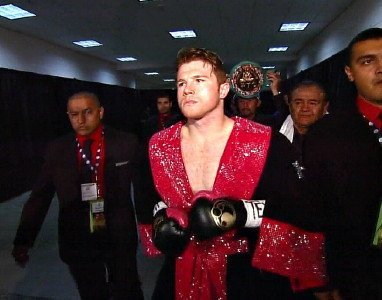 Mexican star Saul "Canelo" Alvarez (44-1-1, 31 KOs) has about run out of patience in waiting on his opponent WBC middleweight champ Miguel Cotto (39-4, 32 KOs) to sign the contract for a fight against him. Canelo, who is kind of used to getting his own way in negotiations, has told his promoter Oscar De La Hoya, the president of Golden Boy Promotions, that he wants to have him start looking for another opponent for him to fight. Top Rank promoter Bob Arum is saying that Tim Bradley is a possibility for Canelo to fight next.
Bradley is a considerable step down from Cotto, both in size and popularity. Canelo-Bradley isn't a fight that would be near big enough for the 24-year-old Canelo to boot Floyd Mayweather Jr from the May 2nd fight date that he has his eyes on, so Canelo would need to have an open mind about moving off that date. Canelo has insisted for the past month that he plans on fighting on May 2nd, the Mexican holiday Cinco de Mayo.
Canelo doesn't care if Mayweather fights on that date. He still plans on fighting on May 2nd. However, if Canelo winds up with Bradley, the choice will very likely be taken out of his hands by HBO breaking the news gently to the red-headed fighter that a fight between him and Bradley wouldn't be big enough to be a pay-per-view bout that would steer Mayweather off the May 2nd date.
"Oscar just called me and formed me that 'Canelo' told him to seek another opponent," Arum said via deportes.Univision.com. "I do not know what will happen. Just wait a little and then find another rival. Maybe Tim Bradley," Arum said.
Canelo still might get the Cotto fight. It really depends on how things go with the Mayweather vs. Manny Pacquiao negotiations. It's pretty obvious that Cotto is waiting to see what happens with the negotiations before he makes a decision on whether to face Canelo or not. Cotto vs. Mayweather 2 is a fight that would be as smart move for Cotto to take, because Canelo will always be there. A fight against Mayweather is something that may never happen again, which is why Cotto needs to take that fight if Mayweather offers it to him for May 2nd.
Canelo vs. Bradley would be seen as a joke by a lot of boxing fans, because it would be another example of Canelo fighting a guy being dragged from the welterweight division to face him instead of Canelo fighting guys his own size. Canelo's last two fights have been technically at middleweight with him fighting at 155 pound catch-weights against Erislandy Lara and Alfredo Angulo. Canelo weighs in the mid-170s when he fights, and that's the same weight as WBA middleweight champion Gennady Golovkin. The question is why isn't Canelo fighting Golovkin?