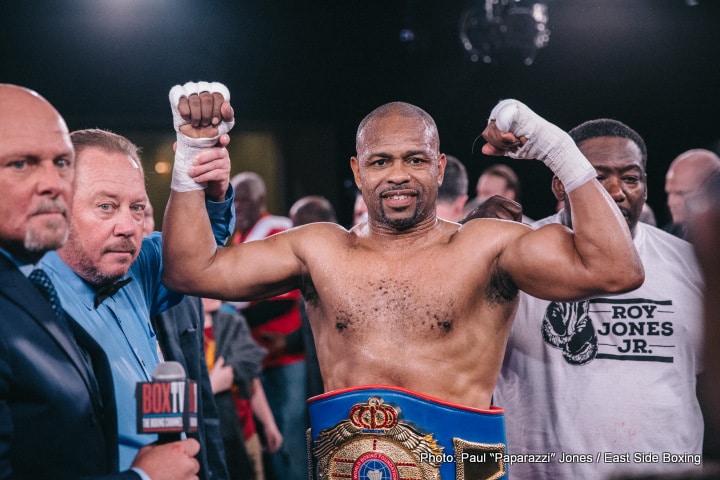 Better than Sugar Ray Robinson? Better than the self-proclaimed "T.B.E," Floyd Mayweather Junior? In fact THE best, finest, greatest pound-for-pound fighter in all of boxing history? This is the lofty mantle 49 year old Roy Jones Junior is handing himself as he approaches what is being bulled as his career finale.
This Thursday, in his hometown of Pensacola, Florida, Jones, 65-9(47) will face 30 year old Scott Sigmon, 30-11-1(16) up at cruiserweight (the one weight class Jones competed in but was unable to capture a world title at). Having had a chance to reflect on his incredible career, Jones said that, yes, he is deserving of going down as a better fighter than the immortal Robinson, and the latter day "T.B.E," Mayweather.
"Even the great Sugar Ray Robinson, the pound-for-pound guy that he was, couldn't win the light-heavyweight title after turning pro as a welterweight," Jones said. "He had a difficult time trying that. So that tells you how hard it is to jump up that kind of weight and win. So, pound-for-pound the greatest of all time? It isn't hard to figure out, Roy Jones Junior is your king of the hill."
Jones, who says Mayweather "was TBE at making money," but that his resume cannot compare with his own, makes some great points in pointing to his specialness as a fighter: the fact that no man aside from him has turned pro at 154 pounds and then moved up to win a slice (a legit slice, at that) of the heavyweight crown. Jones gets no argument here when he says he was greater overall than Floyd, but the Robinson thing is a little different.
Yes, Ray failed to win the 175 pound belt, but he had no luxury of easing his way up from 160, with a stop a 168, the kind Jones himself enjoyed. Instead, "Robbie" had to go up a full 15 pounds and, under blistering heat (as opposed to a a nicely air-conditioned indoor arena), fight the teak-tough Joey Maxim – over a scheduled 15 rounds, not 12. Had the Robinson-Maxim fight been a 12-rounder, Ray would have won handily on points.
Still, in his prime years, from 1993 to 2003, Roy Jones Junior was as close to unbeatable as any fighter could possibly be; much better than Floyd Mayweather Junior, and certainly up there with the original Sugar Ray. While in terms of hand speed, Jones was arguably much faster than Robinson and even a lightweight Mayweather. Jones, at his blinding best, was sheer poetry in motion, no doubt. If only he'd walked away before his skills, and his blinding speed, deserted him.
The prime Jones was 47-1 as a pro, he captured world titles at middleweight, super-middleweight, light-heavyweight and heavyweight and big names such as James Toney, Bernard Hopkins, Virgil Hill, Mike McCallum and Ruiz were not only beaten, but dominated. This is what the once great Roy Jones Junior could have walked away with in the spring of 2003.
Shortly after making history with his brilliant display of boxing genius in beating John Ruiz to claim a portion of the world heavyweight title, Jones had done it all. The untouchable talents of Jones had allowed him to defeat every man he faced – the loss, a contentious DQ defeat to Montell Griffin, was swiftly and brutally avenged – and his title collection was formidable. Jones though, decided to drop back down to light-heavyweight after the Ruiz triumph, in an effort to maintain his prior dominance at the weight. We all know what happened as a result: Antonio Tarver had the best, some say luckiest night, of his career.
Jones, never the same after bulking up in weight and then trying to fight again as a 175-pounder, suffered some brutal KO defeats and saw his reputation suffer. But what if Jones, who was then aged 34 and had absolutely nothing left to prove, had called it a career immediately after the Ruiz fight of March, 2003? It's no stretch to say that the 47-1 Jones, a fighter who had never truly been beaten, would be ranked today in the top-20 greatest fighters in boxing history, maybe even the top-10.
Jones is a classic example of a fighter not knowing when to retire (the same could be said, of course, of Robinson, who boxed on until his mid-forties; losing his final bout). Can Jones go out a winner, and after he does hang 'em up, just where will the historians place him amongst the best of all time? Top-20 for sure, don't YOU think he's deserving?