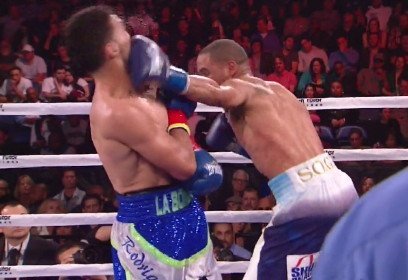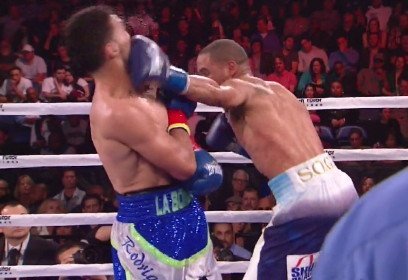 If George Groves (19-1, 15 KO's) can't get IBF/WBA super middleweight champion Carl Froch to give him a rematch, WBA super middleweight champion Andre Ward (27-0, 14 KO's) says he'd be interested in giving Groves a chance at winning his belt. Ward liked what he saw of Groves in his loss last month to Froch in Manchester, UK, and he thinks Groves deserves a title shot.
Ward obviously knows that a fight between him and Groves would mean big business in the UK, because Groves is a rising star in the UK. A Ward-Groves fight would likely be pay-per-view in the UK.
Ward said "UK fans still not happy with Carl "The Cobra" Froch huh? That's why I respect #UK fans, they ride for the home team, but tell the truth!! His fans won't except anything else. What do you think UK? Thing is if he [Froch] is going to live up to his tough guy image, he has to rematch Groves or try to avenge his loss to me. He's got two options. I would consider fighting George Groves next. He showed a lot his last fight. He's a good fighter & deserves a shot."
The funny thing about this is with Ward showing interest in fighting Groves, Froch might suddenly change his mind and give Groves a rematch. Right now it doesn't look like Froch is going to prove his tough guy image like Ward talks about by giving Groves a rematch. But at the same time Ward is kidding himself if he thinks Froch is going to face him again. If Froch has been content to fight for the past 2 years without trying to avenge his loss to Ward, it's safe to say that Froch won't suddenly get the desire to fight him again. Froch will likely exhaust all possible opponents before he gets to a rematch with Ward, and that might take a while before he gets to that stage.
Groves the rematch with Froch, but it might be asking a lot of Groves for him to face Ward next. He would exploit all the things that Froch was able to exploit and then some. As good as Groves is, it would be an easy fight for Ward, because Groves proved in his loss to Froch that he doesn't know how to fight on the inside. But worse than that. Groves doesn't seem to know what to do when he gets on the inside, because he just looks helpless in the way that a fighter does when he's not been taught how to fight inside.