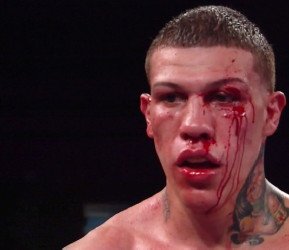 By Joseph Herron – Gennady Golovkin (25-0, 22 KOs) successfully retained his WBA Middleweight Championship with a technical stoppage over a lively but overmatched Gabriel Rosado (21-6, 13 KOs) at the 2:46 mark of round seven.
The decision to stop the contest was made by Rosado's trainer and friend, Billy Briscoe, when it became abundantly clear that the courageous Philly native's vision was being impaired by a horrid gash over his left eye. After bleeding profusely for the majority of the seven round contest, the 27 year old fighter stopped being competitive and shifted gears into survival mode throughout the final stanza of the halted bout.
While the stoppage was unanimously supported by those at ringside, it was also collectively understood that Golovkin's second consecutive HBO appearance was much more competitive than most fight pundits and boxing scribes had anticipated.