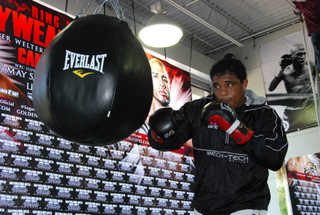 One year ago Cuban heavyweight sensation suffered a bad knee injury when challenging World Boxing Council (WBC) world champion Vitali Klitschko in Cologne, Germany. At the end of the first round which he would have won on the scorecards, Solis' knee gave in, forcing the referee to stop the fight. "La Sombra" had to undergo surgery three times and was unable to get back into the ring so far even though his comeback had been announced a couple of times last year. Now the 2004 Olympic gold medalist and multiple world amateur champion is finally set to return to action on May 19th in Texas on a show promoted by Kathy Duva (Main Events) along with Ahmet Oner (ARENA).
At the moment Solis is in training camp in Florida with champion coach Pedro Luis Diaz Benitez who is also preparing Miguel Cotto for his light middleweight mega fight against Floyd Mayweather jr. on May 5th in Las Vegas.
"It feels great to be finally back in action and working on my comeback", says Solis. "The last twelve months have been hell with a lot of setbacks but now I'm ready to go at it again. Of course, it adds some extra motivation to work with a great champion like Miguel Cotto. We have lots of fun at camp but, of course, we are both very focused and working hard on our goals.."
Solis' opponent for his comeback fight has not been announced yet but promoter Ahmet Oner knows that his fighter doesn't need an easy build up against any kind of journey man.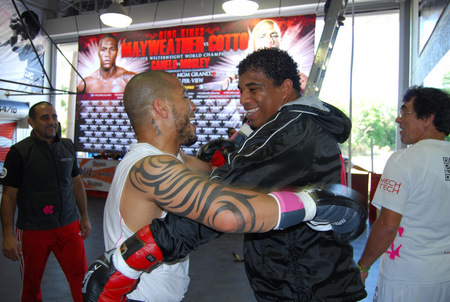 "Solis is a special fighter", says Oner. "I still believe that he is the biggest force in the heavyweight division besides the Klitschko brothers. In the last weeks and months I heard lots of people talking about the heavyweight division and discussing all different kinds of names as possible Klitschko challengers or heavyweight hopes. I never heard the name Odlanier Solis. People overlooked him because he has been out of action for quite a while but I am sure that his comeback fight will put him right back on the map. We will not waste any time with fights against tomato cans. We are looking for a real test for his comeback. It's not easy because there are not many fighters out there who actually dare to step into the ring with Solis but I'm sure that we will present a good solution very soon. When Solis stays healthy and doesn't suffer any more injuries, I am sure that he will be world champion very soon. We will go after Wladimir Klitschko immediately. But of course, we would be ready for a rematch with Vitali as well. Solis is one of very few fighters in the world who could actually beat both brothers and I am convinced that he will prove it once he gets another chance."