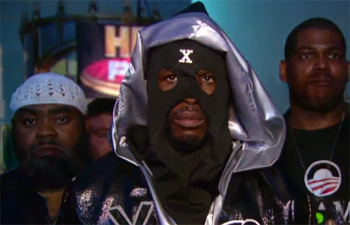 by Geoffrey Ciani – As the old saying in boxing goes, styles make fights. If fighter A beats fighter B and fighter B beats fighter C, there is no guarantee that fighter A will beat fighter C. Styles make fights. Even though there are countless examples of this throughout boxing history, perception still plays an influential factor in molding the minds and opinions of boxing fans. A recent example would be when Shane Mosley was preparing to face Antonio Margarito. Mosley had already lost a decision against Puerto Rican sensation Miguel Cotto, who himself was brutally beaten in a late round stoppage loss against Margarito. Going into the Margarito-Mosley fight, the perception was that Mosley was in a world of trouble and few were giving him a real chance against the iron-jawed Mexican. Only after the fight did it become commonplace to hear that Margarito was easy pickings for Mosley because of styles, but few were saying that prior to the fight. Of course, hindsight is 20-20, but perception and timing mean everything.
Continuing with the Margarito theme, Floyd Mayweather Senior used a similar line of reasoning on a recent episode of On the Ropes Boxing Radio (July 2010) when discussing a potential match-up between his son and Margarito: " Well little Floyd really ain't got to beat Margarito. Shane already beat Margarito and he beat Shane like a baby and Shane beat Margarito like a baby so there ain't nothing to prove no more to be honest. I think that's already solved."
Just because Floyd beat Mosley and Mosley beat Margarito does not necessarily mean that Floyd would beat Margarito, much in the same way Margarito beating Cotto and Cotto beating Mosley did not mean Margarito could beat Mosley. Regardless, perception defines everything, and many observers are inclined to agree with Floyd Senior's faulty reasoning. Of course, there are also others who agree that Mayweather would still beat Margarito, anyway, but not merely because of what transpired in the fights between Mosley-Margarito and Mayweather-Mosley.
This brings up an interesting situation with the proposed December fight (which is rumored to be signed by this Friday) between WBC light heavyweight champion Jean Pascal (26-1, 16 KOs) and the ageless warrior Bernard Hopkins (51-5-1, 32 KOs). Many observers figured Bernard Hopkins reached the end of the road when he dropped a close split decision against Joe Calzaghe in April 2008. Hopkins proved the world and his critics wrong when he came back that October to annihilate then undefeated Kelly Pavlik in twelve rounds of lopsided action. Before Hopkins-Pavlik was signed, many members of the boxing community speculated that a fight between Pavlik and Calzaghe would be a logical next step for both boxers following Cazalghe's win over Hopkins. When Hopkins subsequently beat Pavlik, however, a lot of fans embraced the attitude that just because Hopkins beat Pavlik, Joe would have, too.
Rightly or wrongly, Calzaghe's reputation got a bit of a boost from Hopkins' dominant victory over Pavlik. Will the same thing happen if Hopkins beats Pascal? It almost certainly will.
Hopkins has an outstanding chance against Pascal, too, despite being 45 years old. To be sure, Pascal represents the type of opponent who poses some of the physical attributes that are known to give Hopkins problems, namely speed and athleticism. Hopkins is a seasoned pro, though, and he knows every move in the book. If push comes to shove, at the very least, Hopkins will make it ugly and keep it competitive using a variety of veteran tricks up his sleeve to disrupt Pascal's rhythm and prevent him from establishing momentum. Hopkins is especially good at doing this against an opponent who is known for fighting in spurts, and Pascal fits the bill. Unlike Calzaghe, Pascal is not going to fight hard every second of every round to overwhelm Hopkins with sheer volume and activity. As such, Hopkins stands a strong chance to win this one. He may have shown his age finally catching up with him in his long awaited rematch with Roy Jones Junior earlier this year, but Hopkins is usually wise when it comes to choosing opponents he matches up favorably against at this late stage in his career.
At the end of the day, if Hopkins does indeed beat Pascal, Cazlaghe's reputation will probably get another boost. As long as Hopkins continues fighting and beating top rate fighters, Calzaghe and his fans will be smiling somewhere. This, of course, has absolutely no bearing on how a fight between Calzaghe and Pascal would have gone down. After all, styles make fights. Beyond that, it has been over two years since Calzaghe edged Hopkins out. Calzaghe is no spring chicken himself and there are no guarantees that he would be able to continue fighting at an elite level for as long as Hopkins has, and even if he could, this does not mean he would necessarily be able to beat Pascal in any case. Nevertheless, the perception that Calzaghe beat Hopkins will automatically enhance Calzaghe's standing in the eyes of many with each and every Hopkins victory going forward.
***
For more information about On the Ropes Boxing Radio please visit our website:
http://www.ontheropesboxingradio.com
To contact Geoffrey Ciani:
ontheropes@boxing247.com
To read more by Ciani please visit The Mushroom Mag:
http://www.eatthemushroom.com/mag