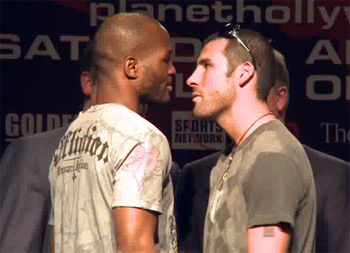 by Geoffrey Ciani – Joe Calzaghe represents an interesting case in recent boxing history. He is the type of fighter who was probably underrated throughout most of his fighting days. At the same time, he is also the kind of guy who will most likely tend to become overrated with time because he decided to retire with his unbeaten record still intact. Exactly how good was Joe Calzaghe and how should he be remembered?
Calzaghe's style was not always pretty. He was an unorthodox fighter who utilized speed, volume, and angles. His detractors would often criticize his style and technique, and sometimes he would even appear almost amateurish inside the squared circle. Critics would frequently accuse him of slapping rather than punching. Despite his numerous "flaws", he was very effective inside the ring and was a proven winner. Why was he so effective? Was it due to a lack of good opposition? Is it because Calzaghe was a special fighter whose genius was simply not appreciated? Or was it perhaps some unique combination of the two that largely surrounded circumstance?
On episode 69 of On the Ropes Boxing Radio boxing trainer Brother Naazim Richardson had this to say about Joe Calzaghe:
"It's hard for us over here to respect Calzaghe's style because it's so far different from what we allow our athletes to do here. We won't allow our athletes to slap with punches. I tell people a lot of times, I applaud Calzaghe's father because had you brought Joe Calzaghe over here to some of the greatest trainers that live over here, they probably wouldn't have found the same success with him. I'm talking about some of the all time great trainers. Some of our guys like even the current guys that are out there now, like John David Jackson, Freddie Roach, and people of that nature, Emanuel Steward—they won't let their guys out of the gym without turning those punches over. So we just wouldn't accept that style here so it would never have been able to grow and flourish into what he became. We would have probably snuffed that fighter out a long time ago, but his dad being new to boxing he let it slide and it turned out to work. Sometimes ignorance is bliss."
Richardson touched on some key points regarding American attitudes towards Calzaghe.
When Calzaghe won the WBO super middleweight title against British legend Chris Eubank few fans in America took notice. He successfully defended this title twenty-one times, but despite his long reign, he never received a whole lot of credit outside his region. Part of this was due to the fact that Calzaghe rarely fought outside of the UK and never fought on American soil throughout his entire 168 pound reign. This undoubtedly hurt his standing in the eyes of many. In addition to his ugly style, Calzaghe also had a few rough patches along the way while suffering knockdowns against the likes of Byron Mitchell and Karbary Salem. Even though Calzaghe just kept on winning, his level of opposition and unorthodox style still drew a lot of criticism.
When Calzaghe annihilated American hopeful Jeff "Left Hook" Lacey in twelve one-sided rounds of action many people finally began to take notice, but at the same time, many discredited the victory and said Lacy was no good to begin with. When he had his unification bout against Mikkel Kessler he began drawing more attention. Aside from having some really rough spots and eating some good shots early on, Calzaghe outworked and outhustled his younger foe to win a comfortable points victory. Kessler was simply unable to cope with Calzaghe's superior speed and tremendous work rate, getting busted up in the process as Calzaghe bamboozled him with angles and activity.
After that Calzaghe decided to move up to the light heavyweight division to face American legend Bernard Hopkins. This was the first time Calzaghe fought in America. Despite being 43 years old, Hopkins was still an elite fighter and represented Calzaghe's toughest challenge to date. Things did not start off well for Calzaghe, either. Hopkins dropped him in the opening round with a perfectly placed right hand. Calzaghe would rise to his feet, but he was caught with a couple of more solid rights before the round concluded. It appeared that Hopkins had him timed brilliantly and it looked like it was going to be a long night for Joe.
Things did not get much better over the next three rounds. Hopkins patience and experience were on full display. He was looking for opportunities to counter and consistently finding the mark. Calzaghe looked uncharacteristically confused. He was unable to find his rhythm during the first third of the fight and it almost appeared as if Hopkins was on his way to an easy victory. After all, Hopkins was a seasoned vet who knew every trick in the book. He was extremely versatile and had an uncanny ability to adapt to his opponent's style. It was not uncommon for Hopkins to start slowly in fights. He would often feel out his opponent, look for weaknesses, and begin exploiting them with more and more frequency as the fight progressed. Typically, Hopkins would then slowly break a fighter down both mentally and physically over the final stretch. In this fight, however, Hopkins got off to a good early start and whenever this happened, it usually meant bad things for his opponent.
This was when Calzaghe really proved his worth as an elite fighter. Starting in round five, Calzaghe began making slight subtle adjustments of his own. He was adapting to Hopkins' patterns and began pressuring him more effectively. He was landing more frequently and he was not getting caught as much with the right hand that troubled him early. His work rate continued to improve and it appeared he was gaining steam as Hopkins began to fade. Simply put, Joe was beating Hopkins at his own game. Calzaghe may have arguably lost the seventh round and he almost certainly lost the tenth when Hopkins used some veteran theatrics to get a second wind and secure the round. Aside from that, it was all Joe after the fourth. Calzaghe even managed to become the only fighter to really ever outwork Hopkins during the championship rounds of a fight.
Calzaghe was awarded a split decision victory, but many in the boxing world still refused to give Joe his due credit. After all, Hopkins was 43 years old and clearly on the decline. Or was he?
Calzaghe would go on to beat Roy Jones in his next and final fight. There is no question that Jones was a shell of his former self at this point. He had not won a significant fight against a top tier opponent in years, but he still had a big name. This allowed Calzaghe to ride off into the sunset having finished his career with two victories over aging future Hall of Famers. Many fans would view his victories over Kessler, Jones, and Lacy as his most impressive. When things are really viewed more objectively, however, none of those victories compare to Joe's win against Hopkins. The fact remains that Lacy never lived up to expectations, Jones was already well past his expiration date, and Kessler was the type of fighter who would always have problems with guys who could disrupt his rhythm. Hopkins was an entirely different animal altogether. He was the only top elite fighter Joe ever fought in his career and it happened during Calzaghe's first fight in America, which was also his first fight at 175 pounds in a fight where he faced a lot of early adversity. The fight may have been "ugly" but it was definitely Joe's most impressive win.
The magnitude of his victory against Hopkins may or may not be a matter of debate for future boxing historians. As Calzaghe's legacy improves with time, however, perhaps this fight will begin to get the attention it probably deserves. It was a tactical chess match between two masters of versatility and craftsmanship. It was a close fight, and a strong argument can be made that Calzaghe even deserved to lose a close decision. Regardless of that, even if two of the judges did not see things his way, it was still the one fight where Joe truly proved his greatness as a boxer.
In conclusion, to quote Naazim Richardson:
"I've never cared for the way Calzaghe fights but I have great respect for his achievements."
***
For more information about On the Ropes Boxing Radio please visit our website:
http://www.ontheropesboxingradio.com
To contact Geoffrey Ciani:
ciani@boxing247.com
To read more by Ciani please visit The Mushroom Mag:
http://www.eatthemushroom.com/mag