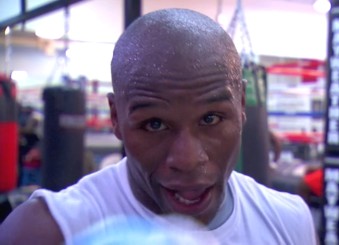 Bill Patrice Jones – The upcoming welterweight mega fight between Floyd Mayweather and Shane Mosley could not have been billed more appropriately: Who are you picking? The fight is inspiring a healthy amount of: speculation, debate and counter debate. There is so much at stake for Floyd Mayweather that the fight cannot help but attract a huge PPV figure.
Why I believe this fight is so fascinating is because Floyd Mayweather has really been something of a contradiction. On the one hand he has been regarded as arguably the most technically gifted fighter of his generation, yet conversely over the past few years there has been growing resentment from the fans over how he chooses to justify that claim! The fight with Mosley therefore provides the perfect night of judgement for Floyd. Should he prove his greatness, fight a perfect fight and dominate a bigger stronger future hall of famer, then respect shall be restored! Yet what if he were to lose to Mosley? What if he finds his defence inadequate against such a brave and determined puncher? What if he faces the sobering realisation that he is unable to contain a fighter of Mosley's calibre? This fight is a genuine super fight because both of these scenarios are well within the realm of possibility. I think Emmanuel Steward called this fight perfectly when he said it would go one of two ways: Floyd will be dominant or Floyd will get dominated! He is either going to show the world why he is the best fighter on the planet, or suffer a sobering defeat in his first live match up for a long time. Because ultimately it is Floyd's recent ring history which gives Mosley fans something to get excited about. A series of fights in which he may have called the shots a little too much. Specifically his last two fights in which certain conditions were met to ensure that defeat was never a likely scenario.
One need only watch Floyd Mayweather in the ring once or twice to know that he is indeed something special. His often effortless movements around the ring, his ability to deflect and negate power shots from his opponents and his superb hand speed which he utilises to catch his opponents coming in. Floyd Mayweather is one of the best fighters of his generation, that much is without question. His becoming a PPV star was not just a result of his incredibly brash and shameless promotional techniques. Boxing fans are fascinated by Floyd and they queue to see his fights because they want to see a master at work. His turnaround of the De La Hoya fight and his taking apart of Ricky Hatton between rounds 8 and 10 are recent examples. Yet if we take what Floyd has really accomplished over his last few fights it simply has not been enough. He is a walking contradiction, because for all his ability he has not yet proven himself. Since moving up to welterweight he has faced six opponents (including Sharmba Mitchell), only three of which can be called real welterweights. Floyd's comeback against the enigma Zab Judah in his first important bout at 147 was impressive. Yet he was not able to dominate Judah and found himself in a very tough fight for the first six rounds. Yes Floyd figured Judah out, but we all know Judah tends to fade and lacks the mental strength to be an elite fighter. The Carlos Baldomir fight was hopelessly one sided and we all remember Floyd's angry response when Larry Merchant asked him if that was 'entertaining.' Floyd took the question the wrong way, all Larry really meant was that 'we want to see you in a great fight.' Flash forward to May 2010 and Mayweather has yet to be in that 'great fight.' It looked like we would finally see the super fight we were waiting for when Mayweather met De La Hoya. This was easily Floyd's toughest fight so far. De La Hoya bullied his way forward successfully for the first 6 rounds, but by the halfway mark all the class was with Mayweather. Perhaps he does not get enough credit anymore for this win? Some say the decision was questionable (not at all in my opinion), others say Oscar faded. Either way Floyd was good enough that night.
Following De La Hoya the resentment has been growing much faster. Mayweather signed to fight the undefeated light welterweight champion Ricky Hatton. At the time Hatton was a genuinely live opponent. He was fearless, relentless and possessed excellent foot speed. The problem was Ricky was not a welterweight. He had never been comfortable there and ended up giving away too much in size. Once again Floyd had some trouble in the early rounds but once again he took over the fight, more spectacularly this time. In his latest fight he was seen asking Juan Manuel Marquez to come up to 144, and then did not make that pre arranged weight himself. The Marquez fight was over before the first bell rang. It was hardly the stuff of legacy.
Shane Mosley is going to be a whole new challenge for Mayweather. The suggestion that Mayweather is overlooking Mosley is outrageous, Floyd is one of the most dedicated and hardworking professionals in the game. The problem is has he acknowledged the disparity between his last fight and the task at hand?
Emmanuel Steward's prediction for this fight is accurate because Floyd will have to get busy if he wants to beat Mosley. His conservatism will only get him so far, Mosley will ride the shots coming in and keep pushing him back. Against Ricky Hatton Mayweather showed himself a handy infighter, beating Hatton at his own game. Against Mosley Floyd is going to have to come off better in the exchanges. If he can't hurt Mosley early, it could well be a very long night.
For Shane Mosley to beat Mayweather I believe he has to start fast. Judah, De La Hoya and Hatton all won a good portion of the early rounds against Mayweather. Mosley has to build an early lead because we know Floyd never fades in fights. Hatton's speed and relentlessness unsettled Floyd briefly and De La Hoya's size did the same. Mosley fans need to believe that his combination of size, speed and strength will be too much for Mayweather to cope with. The task is huge; however, a Mosley win should not be seen as a shock! Mosley is the real deal and he's hungry. He has wanted this fight badly for a long time. More importantly he has pursued tougher matchups at 147 than has Mayweather. Floyd cannot escape the fact that until now he has faced none of the top guys at 147 all of whom would have provided exciting fights: Miguel Cotto, Antonio Margarito and Paul Williams are all absent from his record. Shane meanwhile, after losing to Cotto took the unprecedented step of challenging the monstrous punching Margarito. He stopped him spectacularly and then signed to fight the dangerous Andre Berto (before Berto had to cancel in order to return to Haiti)
On a recent episode of HBO's 24/7 Nazim Richardson said Mosley is going to catch Mayweather early, wake a dragon and then a tough and enthralling battle will ensue. Every boxing fan alive hopes this will be the case.
Shane Mosley has to be the casual fans favourite. How can you not like Mosley's approach to this fight and to his life. He will be playing the good guy set against Floyd's flashy character we love to hate. Floyd might keep telling us he is the greatest of all time, but its like Mosley says: Eventually you have to back it up. On May 1st Mayweather may not be able to. My official prediction is that Mosley is going to win a hard fought unanimous decision! (perhaps thinking with as much heart as head! I do hope Mosley will do it.) Mayweather has proved himself beyond doubt the best at every weight in which he has competed except welterweight.
Yet regardless of who wins; May 1st is Floyd's judgement night! A dominant win over Mosley would silence the doubters at last and he needs to do just that.