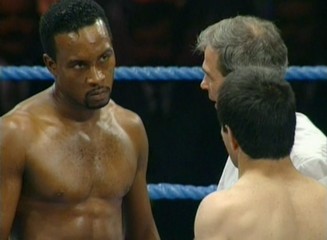 by James Slater – This fight had "pick 'em" written all over it!
I can quite vividly remember the lead up to the fight that took place exactly 20-years ago today in Atlantic City – and no-one was at all sure who would win when tough guy Doug DeWitt of Yonkers, New York climbed into the ring to defend his WBO middleweight belt against the lethal-punching, yet vulnerable Nigel Benn of London, U.K. If you picked up a paper or a magazine back in April of 1990, you would find as many experts picking an 'away' victory for Benn as you would a 'home' win for DeWitt.
DeWitt, 32-6-4 was the older am at age 28, and he was making the second defence of the WBO belt he had won by out-pointing Robbie Simms the previous April. DeWitt, known for his hard head and sheer gameness, had actually made a little bit of boxing history with the win over Hilton; as he had become the very first holder of the newly minted WBO middleweight championship. Having been unable to win a world title up until January of 1990 – despite, or due to, his having faced a who's who of the middleweight division in the 1980s; such as Thomas Hearns, Sumbu Kalambay, Don Lee and Milton McCrory – DeWitt was now intent on keeping hold of his new belt..
Standing in his way was British banger Nigel Benn, a man who would arguably go on to be known as Great Britain's most exciting middleweight/super-middleweight. Aged just 26 and with a record of 25-1, with all but two of his wins coming early, Benn had recently relocated to America after having suffered a quite humiliating loss at the hands of fellow Brit Michael Watson. After having wrecked all who stood in his way, Benn was taught a lesson by the skilled Watson, eventually being put down and stopped by nothing more than a stiff jab in May of 1989. Benn had punched himself out and the more experienced Watson, after having been under real fire in the early rounds, capitalised on his rival's fatigue in the 6th-round.
The thinking in many minds was, if Benn ran out of gas against Watson, and if his punches let him down in that fight, surely the same thing would happen against the rock-chinned, highly seasoned DeWitt? Instead, however, "The Dark Destroyer," as Benn was colourfully known, was about to become Britain's first world middleweight champion since Alan Minter a decade before.
A great fight ensued inside Caesar's Hotel and Casino in Atlantic City , with high drama a-plenty. Both men were supremely confident of winning, and in the early going it really was unclear who would do so. In an early round, both men landed with simultaneous left hooks to the head. DeWitt was sent backwards, Benn was sent down!
Despite looking calm as he took the eight-count, Benn may well have been having flashbacks to the Watson loss. Showing heart and courage, along with an improved maturity and ability to pace himself, the challenger regrouped and battled back hard.
Years later, in an interview with British trade paper Boxing News, DeWitt recalled the knockdown he scored over Benn in the early going of the fight.
"The knockdown I scored over him early in the fight, I caught him with a left hook that hit him as he was going back," DeWitt said. "That took a lot of the leverage out of the punch. But if you watch the tape, you'll see that he was wobbling back to his corner at the end of the round.
"The thing is, I slugged with Benn and that was foolish. I should've had more respect for him. If I'd respected him the way I respected [Matthew] Hilton (who Doug made his first WBO title defence against three month previously), there is no way he could've beaten me."
That much is debatable, but in any case, Benn did come back from his trip to the floor to both beat and beat up "The Cobra."
Taking what strength DeWitt had left from him and wearing him down and busting him up, Benn took over in a big way. DeWitt was still game, naturally, yet he was tired, sore and he'd been hurt a number of times. Finally smashing the most stubborn of jaws in the 8th-round, Benn, at the cost of a broken hand, put the champion down three times; automatically winning on the three-knockdown rule.
The two men had enormous respect for one another (as DeWitt's comments to Boxing News can attest) and the fans went home happy having seen a spirited battle.
Benn would go on to score at least two more truly memorable wins over top-class U.S fighters – one win coming at 160-pounds, the other up at 168. "The Dark Destroyer" cemented his place in boxing history as he stopped the terrifying Iran Barkley in his very next fight, and then the fearsome Gerald McClellan almost five years later. It was the win over DeWitt that started the ball rolling for Benn at world level, though.
Nigel Benn "grew up" as a fighter in the battle with DeWitt, and he was about to reach his physical peak also. Though a second loss was soon coming (to arch-rival Chris Eubank) Benn was well and truly on his way to greatness. As exciting, as entertaining and as good as he would become during the remainder of the 1990s, it's no wonder we all remember Benn so well today – twenty years on from his very first world title fight!