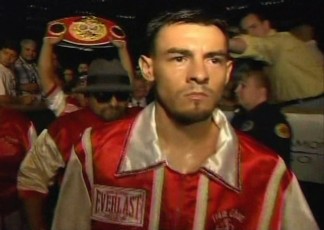 by Geoffrey Ciani – This week's edition of On the Ropes Boxing Radio featured an exclusive interview with former IBF featherweight and super featherweight champion Robert 'The Ghost' Guerrero who is currently set to square off against Roberto David Arrieta on April 30. Here are some excerpts from that interview:
On preparations for his fight with Arrieta:
"The preparations were great. I'm ready to go. Now it's just the countdown until Friday night."
Regarding who he would ultimately most like to fight in the lightweight division:
"Well, I would love to fight the winner out of (Juan Manuel) Marquez-(Juan) Diaz. I mean that would be a great fight to jump into. God willing, everything goes good and I'll be in that fight, but any one of the champions at 135 pounds I would love to get in the ring with.."
On whether he would be concerned in a bout with Marquez due to his experience fighting southpaws:
"No, not at all. It's about being well prepared for a fight. Every fighter is different and you have to prepare for every fighter differently. You get a Manny Pacquiao that just throws a lot of punches and comes straight in you're able to counter all of that, but I'm a much different fighter. I could box, I could bang on the inside, and I could pretty much adapt to anything so I think it would make an interesting fight with me and Juan Manuel Marquez. Like I said, it's about being well prepared and ready to go."
On whether he does anything different in his preparations for 135 pounds as opposed to 130:
"No, pretty much just working on all around everything and just not having to diet so hard and so strict to get down in weight. Now it's just pretty much keeping the weight on and just working and getting better on my boxing and getting sharpened up. There is a lot of stuff I have been working on and not having to worry about a strict diet and keeping it clean and just try to get all the right proteins in."
Regarding whether he believes the increased weight costs him anything in terms of speed:
"No, not at all. I actually feel a lot better, a lot quicker, a lot stronger. You're able to do a lot more when you're not on such a strict diet with your body feeling so good and getting all of the nutrients and vitamins that you need. Now it's adding a little extra so I feel a lot better. I feel a lot better at 135 pounds and I think I'm going to make a good 135 pound fighter, so I just can't wait to get in there and show the world why I belong there."
On whether he has any trouble getting up for lesser caliber opponents like Arrieta:
"That's one of the things you can't do is take somebody lightly because you have to be ready for everybody no matter who it is. This is boxing. One punch can change it all and if you're not 100% focused and ready for the fight, guys can come in and pull the upset. You never know when a guy's going to get up for a fight and be ready for it. I've been training hard, been preparing well, and this is the step at 135 pounds that's going to get me to those big championship fights and if I don't take care of business on the 30th then it's going to be a big setback. You have to prepare for every fight as if it's a championship fight, so that's what I did. I stayed focused and worked very hard for this fight."
On whether he believes his recent layoff will affect his performance:
"No. I feel real good. I feel sharp. The one thing I did during the layoff, I stayed in the gym maybe three times a week getting in there and hitting the bags and maintaining. Being in the gym working on little things here and there, it keeps you on your toes, it keeps you sharp, and it doesn't really let that ring rust get to you. I wasn't just completely out of the gym sitting around, I was always maintaining and staying ready."
His views on Celestino Caballero's impressive victory over Daud Cino Yordan:
"I actually did watch that fight. He (Yordan) ran into a volume puncher and really got outworked. It just goes to show the different level of fighters that they are and he was just out boxed."
Whether he might still be interested in a rematch with Yordan"
"I tried numerous times to get the rematch after the incident and it never went through. They never wanted to take the fight so I moved on from it. I fought for the IBF championship of the world and won the championship and it just goes to show what kind of fighter I am. I went out there and I fought one of the toughest guys that's out there and put a boxing clinic on him. I swept him almost every round, so I moved on from that and am looking for bigger and better things—like a Marquez fight, a Diaz fight, a Katsidis fight. That's who I want to be in with, the world champions. If you beat the best in the world then it shows what kind of fighter you are."
His views on the upcoming mega fight between Shane Mosley and Floyd Mayweather Junior:
"Man, I'm just looking for a great fight. I can't wait. That's going to be an exciting fight. It's a pick'em fight. They're both ready to go. Shane Mosley is a quick handed power puncher and he is one of those hurky-jerky guys where he can get in and make stuff happen. You look at a Floyd Mayweather, where he's a master in the ring and he dictates the fight. When he fights his fight, he is tough to beat. That's one of those guys where he is tough to beat and I really look at it as a pick'em fight. It all matters who's on their game that night. I just can't wait to see a good fight. I would like to see Shane take it so we can have another rematch. It would be great for boxing to see these guys fight a few times."
On whether he has a prediction for his upcoming fight:
"No, I am not making any predictions. I'm just coming out ready to go. I'll get to work and if the knockout comes it comes, but I'm ready to go. I want to get out there and get some rounds in and get back in the game. If it happens it happens, but I'm coming to win, I'm ready to go, and I just can't wait. I'm excited about the fight. I haven't been in the ring for going on eight months and I'm way overdue so I'm excited about it."
***
Be sure to tune in to the Mayweather-Mosley post-fight edition of On the Ropes Boxing Radio which starts Sunday May 2 at 1:30am Eastern Standard Time.
***
Join the On the Ropes Mailing List!
If you want to keep up with the latest OTR news, why not join our mailing list? You can sign up by sending an email to ontheropes@boxing247.com with the subject heading "SIGN ME UP!"
Be sure to tune in!
***
For more information about On the Ropes Boxing Radio please visit our website:
http://www.ontheropesboxingradio.com
To contact Geoffrey Ciani or Jenna J:
ontheropes@boxing247.com
To read more by Ciani or Jenna please visit The Mushroom Mag:
http//www.eatthemushroom.com/mag