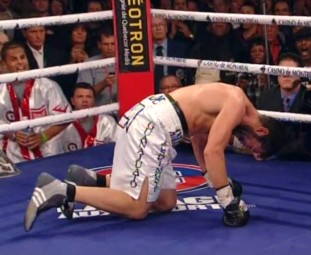 By Paul Strauss: Once again Canada managed to inject controversy into fight night. This time it wasn't at the Belle Center, where the first Bute vs. Andrade fiasco took place, and it didn't even involve their main event rematch. Bute made sure of that when he kayo'd the normally unstoppable Andrade at 2:57 of the fourth round.
This time the hard luck fighter was Ali "Rush Hour" Funeka. He got the shaft from judges Alan Davis and Benoit Roussel, who both scored the fight 114-114. Judge Joseph Pasquale got it right at 116-112. Harold Lederman's unofficial scorecard read 117-111.
Announcer's Bob Papa, Max Kellerman and Lennox Lewis were all in shock, as of course was poor Funeka. His expression of disbelief told the story. There just was no way Guzman deserved a draw. Beginning with the third round, he was a totally beaten and beat up fighter..
By the third round, Funeka's jab had bloodied Guzman's nose, and bruised and cut up his face. From then on the unusually tall lightweight really got his rhythm and started landing punishing combinations with sharp straight shots. Meanwhile Guzman stopped moving his head, and when he did that he was in trouble, because he is not a good technical fighter. Rather, he has to depend on head movement and reflexes. When the head is stationery and his reflexes slow, the punches start landing with more frequency.
Even when that occurred, Guzman failed to realize that he needed to keep his hand up high, and he continued to throw wide looping type punches. Funeka easily avoided most, and countered with sharp combinations.
In the eighth round, Guzman ran into a particularly hard short right hand. It landed right on the chin, and it looked like Guzman might not be able to last the round. However, he mustered up all of his courage and made it to the final bell. In the ninth, he took a lot more hard punches, but showed his true metal by fighting back as much as his wearied body would allow. He even picked things up a bit in desperation, but continually was getting tagged two and three to one in total punches.
When the final numbers were tallied, Funeka had thrown almost four hundred more punches than Guzman, and almost three times as many jabs. When the decision was announced, he was probably thinking that the majority decision against Nate Campbell was bad, but this is ridiculous, and most in the Pepsi Center, along with HBO viewers likely agreed. It was one of the worst decisions ever perpetrated. Max Kellerman said it best when he suggested there had to be a mistake made when they added up their totals. There just wasn't any other explanation for the ludicrous decision.
Thankfully Bute took care of any possible chance for screw up in his bout with the usually rock solid Librado Andrade. The beginning of the fight looked much like their first battle. Bute was boxing beautifully; although, he did appear a bit tense or nervous. He was moving quickly, and landing up-jabs, and countering with right hooks, and occasionally firing off a straight right.
In response, Andrade exercised his usual pressing attack. He even managed to land some early right hands when he would double up on them. The three ringside announcers, especially Max Kellerman, kept on emphasizing the toughness of Andrade and his unusual ability to absorb punishment.
Apparently Andrade explained he has this uncanny ability to kind of deaden himself when he sees a punch coming, and as a result the punch doesn't hurt him? Well, he apparently didn't see the sharp inside left that caught him flush on the jaw in the fourth, because he went down like a normal human being.
If you were Bute at that moment you probably were experiencing mixed emotions. First of all, you would be excited with what you had just done, because of the difficulty associated with knocking down rock jaw Andrade. However, it must have also been a bit discouraging, because when looking at Andrade on his knees, you couldn't miss the smile on his embarassed face, and he might have even winked. Geez, Bute was probably thinking…….that might have been my best shot and this guy is smiling and winking!
Bute immediately went on the attack, but Andrade kept his gloves high and tight, so not much was getting through. Then he started coming back on the attack a bit and pressed forward. During one particular moment, he let his right side exposed after throwing his own right. Bute took advantage and threw a beautiful left to Andrade's rib cage area. It probably rattled everything inside from the liver to the lungs, and might have cracked a rib as well.
Down went Andrade, and it was obvious he was in a lot of pain. He also probably couldn't catch his breath. As a result, he could not beat the count, and Referee Benjy Esteves, Jr reached the count of ten. Bute remains undefeated and erased any questions that might have lingered in the minds of fans after the first fight. He also managed to hang on to his IBF Super Middleweight Title, and stay in the potential mix with the eventual winner of the Super Six Tournament.
As far as Andrade is concerned, this was only his third defeat and first one by kayo. He lost two decisions. The first was to Kessler, and the second was the controversial first fight to Bute, and now this somewhat surprising kayo loss. He will remain right up near the top of the rankings.
When it comes to Canadian judges and referees, just remember what the French say, "Incroyable!" What we say in the USA is "boloney"!