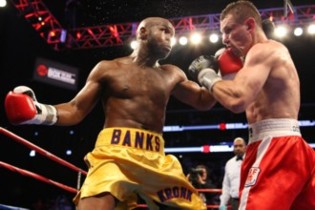 By Paul Strauss: – Photo: Tom Casino/Showtime – Showtime came up with the more exciting night of boxing at the Prudential Center in Newark, N.J. when both Tomasz Adamek and Giovanni Lorenzo scored big knockouts. Neither fighter had an easy time of it though, as both were rocked.
Giovanni Lorenzo pulled closer to a show down with King Arthur Abraham when he did in Dionisio Miranda in defense of his IBF Middleweight Title. He started cautiously, but looked strong and solid in the first round. About two minutes into the second round, he started to step up the action, as it was evident Miranda could not fight backing up. However, Miranda did manage to land a good right to the chin of Lorenzo, which Lorenzo withstood well. Only a few seconds passed, and Lorenzo landed his own big right hand, and down went, he wasn't getting up. It was a one-punch knockout at 2:48 of the 2nd round. Now, the question is can Lorenzo afford to get hit with one of King Arthur's punches like he did with Miranda?
An interview with Kendall Holt was played before the start of the Adamek vs. Banks fight. Kendall had this to say about his opponent: "(Timothy) Bradley is inexperienced, and I'm going to make (promoter) Gary Shaw eat his words. The only belt Bradley is going home with is the one holding up his pants."
Johnathan Banks came into the ring sans Emanuel Steward, but having Manny in his corner probably wouldn't have made much difference. He fought a good fight, and kept it close while it lasted. In fact, two of the three judges had it a one point fight, while the third had it three points in favor of Adamek.
Adamek and Banks fought almost the entire fight with their left feet bumping each other. They were almost always in punching range; although, Adamek appeared the more cautious of the two, which was what his corner man wanted and voiced to Tomasz. Over and over he was told to be patient, and to stay vigilant and watch out for the left hook.
Initially Banks used his jab, and slipped Adamek's right and countered with his own straight right. His corner told him to be the leader, and to pick things up with the jab. Mean while, Adamek seemed to be waiting too much, and he wasn't throwing his jab, but waiting was what his corner wanted.
In the third round, Adamek started to throw his jab more. He remained patient, though In the third, he was hurt by Banks left hook. His right eye started to swell. Neither fighter was maintaining any kind of body attack up to this point.
After the fourth round, Adamek's corner was still telling him not to get anxious, and to be sure to keep his defense up and to block. The fifth round was very close, with good exchanges. Adamek landed a low blow, but it was due to his head being pulled down, so no penalty. By this time, Tomasz started throwing double left hooks to the body, and Banks seemed to be hurt by them.
Between rounds, Banks corner told him that he was giving Adamek too much respect, and that he shouldn't be backing up so much. Announcers Stever Farhood and Nick Charles both saw the fight even at this point.
After the sixth round, Banks punch output seemed to go way down, which was not a good thing when you considered Adamek was always within punching range, and the only thing holding him off up that point was Banks' offense. When that started to disappear, Adamek stepped things up.
In the seventh round, Adamek landed a sharp right hand to the chin, which put Banks down. He beat the count, but he was on his heels, and his knees were locked. His gate was wobbly, but he told referee Eddie Cotton he could continue. Action resumed, but Banks couldn't defend himself, and Adamek was all over him, putting him down again. This time referee Cotton stopped the fight at 1:30 of the eighth round.
Farhood and Charles both expressed a desire to see a rematch between Steve Cunningham and Tomasz Adamek. The Polish cruiserweight seems ready for anyone, even the heavyweights he says. That might be asking a bit much for even his sturdy chin.
ESPN2 had a good night of action at the Seminole Hard Rock Hotel & Casino in south Florida. It was interesting to note that analyst Teddy Atlas is picking Juan Diaz to beat Juan Manuel Marquez tomorrow night in Houston, TX. Teddy feels Diaz is the naturally bigger man, and that his youth and energy will be too much for the older Marquez, who has been steadily moving up in weight over the years. In studio, Brian Kenny asked analyst Bernardo Osuna for his opinion, and he noted Diaz's was beaten by Nate Campbell primarily because of Campbell's body punches. He added that he believes this matchup will be a candidate for fight of the year. He expects Marquez will effectively counter punch with combinations, and that Diaz will use his standard high punch volume pressure attack. On tomorrow night's undercard, Osuna is picking Chris John over Rocky Juarez. He feels Rocky is open for right hands, and that John is very good at taking advantage of his opponent's weaknesses; although, this will be John's first fight in the USA, so there will be added pressure. A big reason Osuna is going with John, is Rocky's penchant for coming up short in the big show…..i.e. silver instead of gold, and losses to Barrera, Marquez and Soto.
In live action, Antwone Smith earned a UD over Noberto Gonzalez. Initially Smith's punches seemed to be deliberately short…….only reaching their target and not going through. Smith has that annoying habit of making noise when he punches. Sprecifically, he makes a pop, pop, popping sound each time he throws a punch. It serves no useful purpose. Smith also exhibited a habit of raising his left elbow. Apparently he mistakenly feels he has to do this to get his chin behind his left shoulder. Fortunately for him, Gonzalez did not take advantage of this trait by punching to the body.
Smtih demonstrated the ability to slip and counter, but at times he would momentarily go into a shell, and allow his opponent to unload. During those times, Gonzalez would punch in combinations, and did land some good right hands. However, he would swing too much and leave himself open for counters, which resulted in him being knocked down in the second round. Gonzalez was still impressive as the aggressor, so it could have been scored a 10/9 round even with the knockdown.
In the third round, Gonzalez sustained a bad cut to the left eyelid. His cut man managed to keep the bleeding under control. By this time, Smith was adeptly rolling back from Gonzalez' right hands, and countering with his own right. More and more he was starting to find the range. Still, Gonzalez was probably ahead on points. Teddy Atlas had him unofficially up by one point because he was outworking Smith.
In the fourth, Gonzalez stepped up the pace again, but the eye cut started bleeding more as well. He landed a good right, and then followed with another good three punch combination. Smtih countered with his own combination, and both fighters closed out the round with a good exchange. This round was a tough one to score.
The pace slow considerably in the seventh, and in the eighth Smith landed a right that seemed to rock Gonzalez, but in reality he just slipped on the advertising painted on the ring canvas, but then Smith nailed him again. By the eighth and final round, Ganzalez seemed to be tiring. It was another round for Smith. Teddy Atlas scored the fight even, but added that he could easily see justification for a close decision either way. The official scoring had all three judges scoring the fight 78-74 for Smith.
A bit of news offered between rounds: Humberto Toledo was suspended for one year and fined $1000 for his biting incident against Breidis Prescott last Friday at the Unviersity Center Arena, Fort Lauderdale, FL. Also, a fight between Miguel Cotto and Joshua Clottey has tentatively been set for June 13th. Pavlik also has a June date targeted for his next defense, but no opponent selected as of yet. Undoubtedly, it will not be Abraham, who will probably fight Giovanni Lorenzo.
The main event saw Glen Johnson fighting his typical hard working type effort. It's nothing too flashy, just good effort, strong will and determination. He always manages to get opponents to fight his fight, and tonight was no exception. Initially, Daniel Judah stayed on the outside, and jabbed, and used his height and reach to good advantage. But, just as he seemed to find his comfort range, Johnson touched him to the body with a soft jab, and then boom…..a straight right hand to the chin as Judah was backing up in a straight line. Down he went in the first round.
It was a good thing for Judah that the knockdown happened at the end of the round, so he had sufficient time to recover and regroup. Johnson seemed to control things through the first three rounds, and by the fourth, Judah had stopped jabbing, and was fighting inside. That's Johnson's fight. In the sixth round, Judah was pulling a "Zab" and dropping his hands, trying to taunt Johnson, but the Road Warrior Gentleman has seen it all and was not impressed. In the seventh round, Johnson stepped up his body attack. Judah seemed willing to exchange, but when Johnson ducked under a right and countered with a good left hook behind Judah's right elbow, some of the steam seemed to escape from Judah's boiler.
In the ninth, Johnson changed tactics a bit, going to the head again instead of the body. He continued to outwork Judah, finishing things up by again going back to the body. The tenth was a repeat………nothing pretty, but effective. It was a solid win with one judge scoring the fight 99-89, and the other two 99-90. Johnson obviously wants the winner of the May 9th Dawson vs. Tarver, and he deserves it.