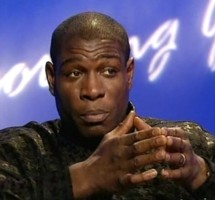 by James Slater – Aside from it being yet another world title defence being made by the always-exciting heavyweight champion Mike Tyson, the Feb. 25th, 1989 bout between "Iron Mike" and Frank Bruno didn't mean all that much to its US audience. Yet over in the UK, what with "Big Frank" being one of Britain's most loved boxing heroes, the fight meant a whole lot – and today, some twenty years on from it having taken place, it still does.
A huge underdog going in, Bruno, who had failed in a previous attempt at wining a version of the heavyweight title when he'd been brutally stopped in the 11th-round by Tim Witherspoon in July of 1986 – was given next to no chance, even by his countrymen. The fact that the beloved Londoner actually gave Tyson, then considered practically unbeatable, a decent argument made the fight a memorable occasion for Britain – the fact that Bruno's left hook to the head wobbled Tyson in an electrifying 1st-round made it even more so.. First of all, mere seconds into the bout, Bruno was sent down; but then he got up and came back to stagger the champ. The British fans loved it!
The fight took place in Las Vegas exactly twenty years ago tomorrow (Feb. 25th) and on today's issue of Telegraph.co.uk Bruno, now aged 47 and long retired, recalls his first meeting with the then 35-0(31) Tyson.
"When I actually caught Mike Tyson and he started rocking [in the opening round] I thought for a minute that possibly we had him," Frank said. "But he came back much stronger and I certainly knew about it when he started hitting me. The hurt – not only physically, but psychologically – of losing that fight is difficult to make people understand."
Tyson, of course, recovered from the big left hook he ate in the opener, and battered a defenceless Bruno on the ropes in the 5th-round – prompting the intervention of referee Richard Steele.
Bruno wasn't done, though, and after a painful stoppage loss to Lennox Lewis in his third crack at a world title, he managed to beat Oliver McCall on points to win the WBC belt in Sept. of 1996.
Strangely, however, it is the Tyson fight from 1989 that the British fans seem to remember most vividly. Frank certainly remembers it well.
"I remember that fight very well," Bruno said. "One minute it was in England, and then it was going to be in Vegas. The venue, from memory, kept changing. As I look back, it doesn't seem twenty years ago. It was a very exciting night, but disappointing with the result that we eventually got. However, that's how the cookie crumbles in boxing.
"It was being portrayed by the media as a 'Britain Vs. America' contest – really just to gee up everybody in supporting me. When walking into the ring, although the noise was deafening, I shut it out and was totally focused on getting to the ring and the fight. Going into a ring with the likes of Mike Tyson, I had to be totally focused on the fight."
Bruno did both he and his army of fans proud that night two decades ago, and even though he was to surrender somewhat timidly in his 1996 rematch with Tyson – when Bruno was the defending WBC champ – it doesn't really matter. Big Frank gave his best in the fight he is still best remembered for.