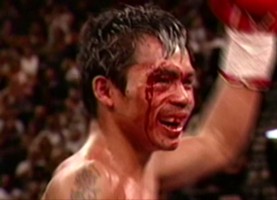 By Michael Klimes: For some reason I find Manny Pacquiao's fight against Ricky Hatton in May very interesting. I will even say it is intriguing but I can't quite put my finger on the pulse of the matter. Let us start with Pacquiao. The Filipino superstar has appeared dazzling of late. His victory against David Diaz last June when he forayed into the lightweight division was nothing short of beguiling and brilliant. Just as Floyd Mayweather Jr. had announced his retirement, Pacquiao put on a performance that seemed to possess the savvy of Mayweather. He darted between the inside and outside effortlessly, demonstrated a jab that had never looked better and his whole style of fighting had the subtlest form, which revealed he was boxing with a newfound intelligence. Move on to December 2008 and the mundane hacks of boxing journalism are predicting his inevitable fall against Oscar de la Hoya due to the size discrepancy. Unfortunately I am in that group and we witness the impossible happen: Pacquaio not only defeats his idol. He potentially sends him into retirement. We should thank Pacquiao as we don't seem to be burdened anymore with having to guess when Oscar will announce his next fight against somebody who we've never heard of and earn a trillion dollars, even in a recession..
Make no mistake about it. Pacquiao is the man of boxing at the moment, both in and out of the ring. The bout against De la Hoya made him into global superstar, perhaps a superpower that can do whatever he wants. Yet still, the aura of Pacquaio in the ropes which was once one of unbridled intensity has been displaced by cold and calculating killer. However, his personality seems the same since he started boxing although he is celebrity in the world of sport and an icon back home. Manny appears to be Manny no matter what hits him. Surely, he has the biggest fan base in the world?
A man who would surely disagree is the beer drinking, curry eating Macunian Ricky Hatton. The boy sure does have a lot of fans. Supposedly thirty thousand of them flew over to see him be outclassed by Mayweather and most of them did not have tickets to see the fights. Like any patriotic British drunkards, they filled up the bars and sang songs. Like Pacquiao, Hatton is a humble figure, has intensity in his style, a conviction in his boxing and a second home in Las Vegas. We have to be honest about Hatton; he is not a great fighter. If he was, he would not be great in the same way that Pacquiao is. It has even been disputed by his most asinine critics that he is just a journeyman and a very lucky one. He has just been fortunate to have the right connections and an endearing personality.
I think this is a little unfair but they do have a point. Hatton is erratic. Since he destroyed the legend of Kostya Tyszu in 2005, undoubtedly a magnificent achievement, his record has been patchy. He split from Frank Warren and went to America to make himself into a superstar. At least that has been accomplished. His first fight in the US in Boston in 2006 was at a weight and country he had never fought in. One could say it was a courageous move but one could also argue it was a stupid one, as he should have taken on a softer opponent compared to Louis Collazo.
Collazo's southpaw stance and range gave him a lot of trouble. Nevertheless, Hatton did his best and came out with a dubious decision. He then went back to light welterweight and defeated Juan Urango and Jose Luis Castillo. The Castillo victory was inflated due to his age but Hatton's body shot was excellent and I think he can be compared to Cotto and Mosley in his body punching. That left hook is a spectacle. However, the temptation to move up to the welterweight division and confront Mayweather was again too tempting. Understandably, Hatton could not say no. It was also a little sad he was not helped by the referee Joe Cortez in December 2007, who was too much of a midwife and not enough of a referee. Unfortunately, the disparity in skill between Mayweather and Hatton was all too noticeable and many probably thought that Hatton would have been better served staying at one hundred and forty pounds.
Still, I think he had every right to go up to the welterweight division and attempt to establish himself there as, let's face it…the welterweights are where the dollars are at. The light welterweight's relationship to a welterweight is analogous to the one between the cruiserweight and heavyweight. There is a historical precedence which states these 'original divisions' have more respect compared to the other two. It sucks but it is a fact of life.
After the Mayweather debacle Hatton rewarded his fans with a dodgy win in Manchester against Juan Lazcano. It was obvious he was shaking the cobwebs off the cupboard and was hurt a number of times. But an occurrence then happened, which was really a very shrewd move. Hatton's long-time trainer Billy Graham was exiled and replaced by Floyd Mayweather Senior, a defensive trainer par excellence. It may have seemed harsh at the time to dump Graham but Hatton was vindicated by his impressive victory against Paulie Malignaggi. The cocky New Yorker claimed Hatton could not box yet Hatton responded to this by out jabbing the speedy boxer and demonstrating a bit of adroitness fans do not usually see from him. The straight right hand and upper cut was an addition to his arsenal and we saw that sneaky jab, that we always knew he had but had not used for ages. There was even a bit of head movement. Mayweather Senior has taken Hatton and rounded his skills considerably. We should not get ahead of ourselves though. Malignaggi lost on two accounts: he did not have the power to hurt Hatton and his tactics were suicidal, he was too macho and went toe to toe.
One could overestimate Hatton's victory and say Malignaggi was never going to be dangerous as Hatton had too much experience and the American had no power. Nevertheless, one could also underestimate it. Hatton was with Mayweather Senior for only seven weeks prior to the bout and managed to incorporate some new dimensions into his game. Surely he can only get better toward May as Mayweather Senior emphasises defence? At the minute, I find Hatton very hard to measure. He has always had boxing ability but has not used them enough in recent times to make life easy for himself. Against Pacquiao his strategy and execution of them will need to be spot on as Pacquiao has an abundance of power, speed and technique.
I think Pacquiao should win this fight but I don't think it will be easy. He has a southpaw stance that could give Hatton many problems. This would obviously combine with his natural gifts. Still, Hatton will be a tougher proposition than Diaz as he is more talented and a harder hill to climb than de la Hoya as he is younger. Hatton has a degree of freshness and the light welterweight division has been his kingdom for the last four years. A year ago he was being written off by many, including me but he has located a certain amount of momentum, which was lacking until recently. His body punching is second to none and his jab is underappreciated as is his footwork. It is extraordinary how Hatton manages to trap fighters no matter how ugly it is.
I see three scenarios unfolding. The first is that Pacquiao does to Hatton what he did to his two last opponents and beat him very badly: either through cuts or knock out. The second scenario is that this bout is a mess from the start, with Hatton going to the body from the opening bell and striving to make it into an ugly brawl. Pacquiao will probably not back down due to his mentality and will be more than ready to oblige Hatton in a war. Roach may be able to make his victory cleaner by instructing him to take his time and dismantle Hatton, as we have seen with Diaz and de la Hoya. However, Hatton will find a way to make it a close quarter battle. The third option and ironically the one I think is most likely to transpire is a highly technical fight, which will descend into a bloodbath. Freddie Roach and Floyd Mayweather Senior are two trainers who believe in strong fundamentals and smart tactics. They have been making their respective fighters into more tactical clinicians. Both Hatton and Pacquaio will probably feel each other out and once they start landing big punches will go into capitalise with their opportunistic instincts.
Hatton needs to avoid Pacquiao's powerful left hand and follow the known route of circling to the right and throwing flush right hands. A frequent jab to act as a cushion to disrupt Pacquiao's rhythm will be required as well. Meanwhile, Pacquiao will have to be careful of Hatton and avoid the adversary who has a newfound polish with that of the old who can grapple and use dirty tricks. Hatton may not be pretty but he is effective.
I for one, having been so wrong in forecasting the results of so many recent fights will refrain from this one although I will give a boring mathematical percentage. I think Hatton has a 40% chance of winning and Pacquiao a 60% chance.
This fight is quite fascinating. I cannot wait for it to happen. Whoever wins will have achieved a considerable victory.