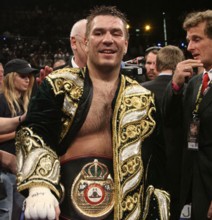 Hollywood, July 30 – For the first time in Russian and International professional boxing history, fighters representing the post-Soviet countries will clash to unite the heavyweight world titles. It is also the first Heavyweight unification bout to ever take place outside the United States. The last heavyweight unification bout was held back in 1999, when the undisputed champion of the world was determined in a clash between Lennox Lewis and Evander Holyfield.
Oscar De La Hoya, who is a co-promoter of Sultan Ibragimov, is among many celebrities and special invited guests that have confirmed plans to travel to Moscow on October 13th to witness this battle of epic proportions.
Sultan Ibragimov at 32, is in his prime and ready to unify the Heavyweight World Titles. During his five years as a professional boxer, this Russian star has twenty-one wins and one draw in his twenty-two fights, seventeen wins by knock-out. Sultan Ibragimov hoisted the Silver Medal with pride at the 2000 Olympic Games held in Sydney, Australia.
In his professional career he holds decisive wins over such well-known boxers as Zuri Lawrence, Friday Ahunanya, Alfred Cole and most significantly a knockout victory of Lance Whitaker, who knocked out Oleg Maskaev in the second round. In his pre-title clash on March 10th in New York, Ibragimov defeated fellow Heavyweight Javier Mora, securing another slot in the record books of Madison Square Garden heavyweight boxing history – a knock-out just 46 seconds into the fight! When Jeff Mayweather joined Ibragimov's team he helped the boxer refine his defensive skills, movement, fight strategy a! nd tactics. Sultan has always been known for precise punching, counterstrike ability against opponents on the move, speed, agility and striking power. These skills, which are an essential component for a champions' fight calculations and discipline, have been cultivated and have allowed Ibragimov to propel his career to another level.
All of Ibragimov's best boxing qualities were displayed in the title fight against Shannon Briggs. This top ranked American boxer, whose opponents' list includes such legendary names as George Foreman, Lennox Lewis and Ray Mercer, lost to Ibragimov. This was one of Sultan's best tactical fights, as he left no opportunity for Briggs to take over the fight. Ibragimov won a convincing victory by decision and took the boxing world by storm, dominating the 6 foot 5 inch enormous puncher and capturing the Heavyweight World Title on American soil in Atlantic City, NJ.
Ruslan Chagaev nicknamed "The White Tyson", is three years younger than his opponent but has a 10-year professional boxing career. Chagaev holds an unblemished professional record of twenty-three victories in twenty-three bouts, 17 of which have been won by knock-out. A legendary amateur, twice winning the Asian and World Championship, winner of eight Asian Boxing Championships, definitely one of the most decorated sportsmen of Uzbekistan, Chagaev was born on October 19th 1978 in Andizhan, Uzbekistan, on the same date as such re-known boxers as Evander Holyfield and Marion Wilson. Ruslan now lives and works to prefect his craft in Germany. Chagaev's hero is the great Mike Tyson, and in the ring he goes straight for the knock-out, having tremendous power behind each and every punch. He won the world title against Nickolai Valuev, 'The Russian Giant'. In fact he won a well prepared, tactical fight over a physically superior opponent just as Ibra! gimov did versus Briggs. Chagaev secured his victory by gaining points, round after round not letting Valuev exercise his physical superiority. In that fight Ruslan displayed the true characteristics of a real champion. He executed a well designed fight plan, exercising great discipline, boxing skills and closely following his coach's directions.
These two champions will not compromise and the winner of the bout will get the opportunity to possibly unite the WBO and WBA with IBF and WBC Heavyweight World Titles to become the undisputed champion of the world! This will not only be a battle of two boxers, but a clash of two completely different boxing styles. Starting from a Soviet amateur sports background and moving to the U.S. for a professional career, Ibragimov represents the American school of boxing. Chagaev who's been training and fighting in Germany, up to this point represents the European school of boxing.
This first unification bout of the decade will surely go down as an unforgettable event in the history of heavyweight championship fights. Both boxers are strong-willed punchers and hungry for victory. They are both left-handers which makes the result still more unpredictable.