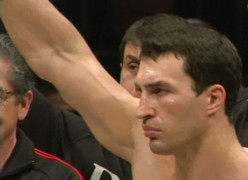 30.07.07 – By Adrian Saba: Finally, after several years, the Heavyweight division is getting better. Most agree that Wladimir Klitschko is the Top Heavyweight at the moment, but not the Champion, at least not officially. The rumors of his next opponent are still flying, nothing is certain, and he probably won't fight soon –if the story about his hand injury is true-.
Surprising and pleasing information was announced last week: The IBF is planning a 4 man tournament to determine the next challenger for Klitschko, the participants are: Chris Byrd, Calvin Brock, Eddie Chambers and Alexander Povetkin. That should be interesting. The last IBF heavyweight tournament that I remember was done some years ago between Chris Byrd, Mo Harris, David Tua and Danell Nicholson. In that one, Byrd ended winning the belt. Now, the winner will only be Klitschko's next rival for a 2008 fight.. Also, finally, after several years, a unification bout is official and, unless something terrible happens, like an injury (God forbid), it will happen in October 13th. What else is new? Of course, the comeback of an older, now recovered from injuries and political aspirations, Vitali Klitschko. This can only bring fun to the weight class. Let's see the current Heavyweight Top10.
Champion: Vacant, obviously. Nobody has done enough to deserve to be called Champion; the number one contender has not faced another top contender in a long time. The Championship is vacant, as you know, since Lennox Lewis relinquished in early 2004. Vitali Klitschko could have been considered his successor or heir, during 2004 and 2005, but he failed to prove that he was the best, although a huge sector of fans considered him the best and THE Champ. If you think that Lewis was the last Champion, then the throne has been without a king during almost four years. This never happened before in the Heavyweight division. Not in 1905, not in 1928, not in 1949, etcetera. The future events make me think that the anarchy will end next year. Maybe there will be a Champion or, if it is possible, a duo of Heavyweights above everyone, a Co-Championship. Brothers.
1.Wladimir Klitschko: He is the man of the Heavyweight division since his 2006 win over Chris Byrd. Byrd was the man after Lamon Brewster was defeated by unranked Sergei Liakhovich. Brewster was the man since Vitali Klitschko retired. Wladimir, as you know, has recent wins over Byrd, Brock, Ray Austin and dominated Lamon Brewster in their rematch. (By the way, Brewster was at a good weight, 228 pounds, and his performance was not different compared to what he always does, and let's remember that he had also been inactive before fighting Klitschko the first time, three years ago). Klitschko's resume places him above the rest, especially if you consider he has been defeating contenders since 2000: McCline, Byrd, Botha, Barrett, Schulz, Peter. Will Wladimir face the Ibragimov/Chagaev winner? It would be logical, and he would consolidate himself as the new Champion. It would elevate him to the next level.
2.Sam Peter: Is it a controversial decision to have Peter as the #2 heavyweight, above Ruslan Chagaev? If you compare their accomplishments, Peter is less than Chagaev, no doubt. Peter has only defeated Toney, two times, and one was a polemic decision; however, keep in mind that Peter looked really good in his last fight. Remember that Toney was a top contender at that time, a master boxer that was outboxed by the Nigerian slugger. Performances should also be considered when creating rankings and Peter's last performance was better than Chagaev's, and I would favour Sam in a fight against Ruslan. That's why I think Peter deserves his place as the #2 heavyweight.
3.Ruslan Chagaev: In just a few months, White Tyson has constructed a decent resume. It is a short one but has quality names, and I tend to think that it will improve. He has defeated Vladimir Virchis, John Ruiz and Nikolay Valuev. Just because of those victories, he deserves to be ranked in the Top3. He is a fearless, courageous, brawler with amateur pedigree. Klitschko, Peter and Chagaev are the kind of fighters that the division needs, that any division would like. Some fans are not happy with Ruslan because of his close fights against Ruiz and Valuev. From what I saw, he clearly defeated Ruiz; it was a UD, I don't agree with judge Jesus Cova's scorecard. Against Valuev it was a close fight that Chagaev won. Maybe he looked bad against Valuev, but who doesn't? Valuev, stylistically and physically, is a nightmare for any boxer. Ruslan's next fight is a unification bout against Sultan Ibragimov. Both must be applauded for taking this fight right after winning their respective belts. My prediction: Chagaev UD12.
4.Oleg Maskaev: Although he is generally considered the most fragile of the beltholders, nobody should underestimate Maskaev. Look what happened to Rahman. Oleg looked pretty good, and in-shape, in that fight…not at all like a beatable or weak fighter. Maskaev is still competitive, and he is not in his prime (that was in the late 90s). I would give Maskaev chances to beat many Top10 fighters, but not Sam Peter, mainly because of their styles; but I think Oleg will give a good fight and will be Peter's biggest challenge until the moment.
5.Sultan Ibragimov: His best wins are over Lance Whitaker and Shannon Briggs. I do not put Ibragimov above Maskaev because his performance against the lethargic an almost immobile Briggs was not so impressive. Don't misinterpret me: I think he won clearly, but he could have done much better. Besides, a knockout win over Hasim Rahman is better than a decision victory over Shannon Briggs after 12 rounds.
6.Nikolay Valuev: He won more respect for a loss than for 46 wins. As I wrote before, Valuev's physical advantages will make any opponent look awkward, lilliputian and disoriented. What he lacks in skill, speed, and athleticism, he has in chin, stamina and endurance. Right now, nobody knows who will be the Russian Giant's next adversary in the ring. He and Sergei Liakhovich are the WBA top contenders, so it would be an excellent idea to put them together in the ring to see who is better.
7.Calvin Brock: Is a solid and complete fighter that displayed a good defense against Wladimir Klitschko last year, and then was the victim of one of the most powerful knockouts done with a straight right in recent years. Calvin has most aspects well balanced for boxing: power, technique, stamina, heart. He also has a curious nickname: The Boxing Banker (?). I still have him in my Top10 because, in my opinion, he would beat most heavyweights and his record is still a good one. There is no shame in losing to Klitschko. What's next for Brock? It was announced that he will participate in the IBF tournament, and will probably fight Eddie Chambers, according to recent news. If he defeats Chambers, he will face the winner of Byrd/Povetkin.
8.Sergei Liakhovich: I remember when he defeated Lamon Brewster, more than a year ago, in a tremendously good and intense fight. Immediately, I included Sergei in my Top3. After doing that, I thought that Klitschko-Liakhovich was the best fight that the division could offer. The White Wolf showed that he had skills and heart, that he was the next warrior in this division, a talented warrior. Now, all that is in jeopardy, his career has become an enigma because of his loss against Shannon Briggs and then his stoic inactivity. He should fight as soon as possible to demonstrate that he still has interest in being part of the elite. I put him below Brock because losing against Briggs is worse than losing against Klitschko (and then defeating Ralph West and Alex Gonzales).
9.Chris Byrd: He is one of the best of his generation, and a memorable defensive and elusive boxer. In previous eras, he would not achieve so much as he did in this one, but I think he would do fine. In his comeback fight, Byrd showed that he still has some air to compete. If Byrd actually fights in the IBF tournament, he would be facing 13-0 Alexander Povetkin in his next bout. The anecdote of the old/experienced fighter against the young/vigorous one repeats. I ask myself if Povetkin, with less than 15 fights, is prepared to face a veteran like Byrd. If Povetkin wins, great step in his career; if he loses, he can improve and challenge a contender later on. And nobody can say that Byrd –win, lose or draw- is not a warrior, even if his style is defensive. He is an atypical warrior.
10.Tony Thompson: This place at the bottom of the ranking could belong to Vladimir Virchis, but I give it to Thompson because of his recent resume: victory over Dominick Guinn, victory over Timor Ibragimov and TKO5 over Luan Krasniqi (Tiger>Lion). Thompson is not a common, past his prime, 35 year old fighter. He started his pro career in 2000, so, in his particular case, he is 35 years old and not necessarily past his best. He is the new WBO mandatory challenger and has the right to fight soon for that belt…against the Ibragimov/Chagaev winner or, if that winner decides to vacate the WBO belt, against Alexander Dimitrenko.
Close to the Top10: Vladimir Virchis, Evander Holyfield, Alexander Povetkin, Hasim Rahman, Eddie Chambers, Alexander Dimitrenko, Matt Skelton, Chris Arreola, John Ruiz.