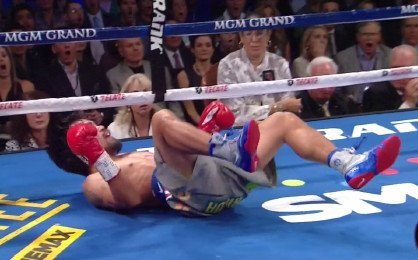 By Marc Livitz: Popular sentiment does not always equal undeniable proof.
Quite often, results can create an aura of their own, and through the course of time, the memories become distorted and the truth is stretched. History gives way to legends and sometimes on to myth. The three hundred defeated the one hundred thousand or so, Saint George killed the dragon, and William Wallace was eight feet in height. These and many more are unlikely episodes yet they are padded by time and tradition.
Boxing cannot as a sport and pastime allow itself to permit the shocking to trump the significant. Earlier this weekend, ESPN aired a replay of the noteworthy and now perhaps in the ranks of fireside chat happenings of December 8, 2012.
Did all time great Juan Manuel "Dinamita" Marquez save fifty people from a burning building? Not exactly. He did what most of us hadn't anticipated, which of course was to knock Manny Pacquiao across the next three dimensions.
The sixth round knockout cleared the argument in regard to the nonsensical pound for pound debate. Floyd Mayweather, Jr. clearly sat upon the throne, although many would argue that perhaps Marquez or Andre Ward held the rights upon which to take off the load. Boxing in 2012 had its fair share of upsets and horrific displays of ringside judging.
All in all, if we are to believe that the Marquez win over Pacquiao was the fight of the year, the event of the year, the knockout of the year and Juan Manuel was the fighter of the year, then 2012 as a whole must have really been quite detestable. The hysteria which followed and continues to follow the events of that December evening in Las Vegas has become akin to the wafer thin mint which made the portly fellow explode in Monty Python's "Meaning of Life". It's either spot on or a mundane game of perpetual charades.
Pacquiao should retire…Marquez has nothing left to prove…they should fight for a fifth time…Juan finally set the wrongs to right.
What is it exactly? None of us know for sure and it's probably better to leave it to our own interpretations. Marquez fought twice in 2012. A shutout win over Sergiy Fedchenko in April in Mexico City and then of course the win over Manny. Since 2007, Marquez has become the archetypal "twice a year" fighter. He draws crowds at his fights and he's one of the best of our generation.
Is the final point who he beat, how he beat him or how long he waited to beat him? Was it really a fight for the ages in the classic sense, or was the simple fact that Manny was rendered unconscious conquers all thought? The mainstream sports world would have us believe that only one fight took place in 2012. That's how bad it seems to have become.
Enough is enough. Joe Louis was bested by Max Schmeling in 1936 and a further illustration could be the fact that Joe Frazier was crushed by George Foreman in 1973. Neither fighter respectively looked back and soldiered on to give the world some of the greatest fight memories in history. Marquez and Pacquiao will not hopefully look back on their lives whenever their respective careers finally crest and wish they'd gone in a different direction.
Quickly follow this reasoning:
As of this weekend, we are still awaiting the decision of Floyd Mayweather, Jr. in terms of his fight slated for May 4. If the opponent chosen turns out to be Robert "The Ghost" Guerrero or anyone else and they score a shocking knockout of Mayweather, then will that fighter be hailed immediately as the fighter of the year? Will there be a clean sweep of pugilistic awards with seven full months to spare in 2013? Let's not get too far ahead of ourselves.
Rome wasn't built in a day, but it burned in the same amount of time.