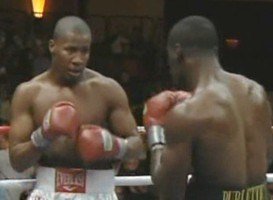 Exclusive interview by Dan Emicus
What was it like to work with Eddie Mustafa Muhammad?
Working with Eddie was great. We had such great team chemistry and I learned so much from him. For me, he is one the top five best boxing trainers of today. I wish him nothing but the best.
You took some time out, but that has somehow turned into 2 years! What's the reason for this?
I have actually had fights lined up, but they were getting canceled and pushed back. I was getting frustrated but it happens in boxing.
How are you feeling physically after two years out?
I feel good physically as well as mentally. I really think a layoff has done me good.
You've sparred with a lot of heavyweights over the years and have said on a few occasions that you see yourself one day stepping up to the heavyweight division. Do you still have heavyweight ambitions, and if so, how far back do such goals go?
Yes, I box everybody. I am just going to take my time and move up slowly to heavyweight. My body is maturing, I feel that two years from now I'm going to move up. Most of these heavyweight can't really fight, they're just big.
Did you at any point consider coming back as a heavyweight this time around, or were you of the mindset all along that you still had unfinished business at cruiserweight?
I'm going to stay at cruiserweight, win the title, move up and try to make my mark at heavyweight, just like Evander Holyfield did. I believe I'm the most talented and colorful cruiserweight. I want to make this weight class known as it's boring right now and people don't even talk about it. A lot of people don't even know the names of the the champions.
It's been said that you've been sparring with Danny Green recently while he was training for his IBO title fight against Shane Cameron. How useful was this sparring? Do you feel that it's given you a good measure of where you are currently and what it will take for you get to world level?
It was a great experience, especially after being inactive for two years. I want to thank them again for inviting me, I had fun there. That training camp made me hungry again and it showed me that I'm supposed to be at world level.
Many observers felt that you were robbed against Yoan Pablo Hernandez. How did you feel at the end of the fight? Also, with hindsight, do you wish you had utilized a very different gameplan on the night?
I thought I won but that's boxing. If I could do anything differently, I would have been more aggressive. Plus I wish we would have had a 10 round fight because he was definitely starting to fade at the end.

Hernandez is of course nowadays the IBF title holder, as well as the Ring Magazine champion. Would you relish the chance to meet him again, or is that not necessarily a specific goal at this point?
I would love to fight him again. As I said, I thought I beat him before. I would just want it to be on an even playing field this time.

If you could have shared the ring with anyone from the past, who would it have been and why?
I would say Evander Holyfield. That fight would have been great. A great style match up and a crowed pleaser, too.
Any boxing-related regrets?
I really don't have regrets. Things happen for a reason.

What's the plan for 2013?
My plan for 2013 will be to stay busy until a big fight comes up.
1 year from now, what do you hope you will have achieved by that point since coming back to boxing?
I see myself in a big fight with somebody in the top ten, maybe winning a few minor championships along the way.
What does "Awesome" Aaron Williams bring to the cruiserweight division (once again)?
I bring an old school approach to boxing. I'm willing to fight anybody and I always give my best. As I said before, I'm the most talented fighter in the division. Oh, and I bring KOs.
Any message for supporters?
I want boxing fans all around the world to know "Awesome" Aaron Williams is fighting soon, so be on the look out! I also want to shoutout to everybody who has been there for me. All my closest family, my friends and those around me who have helped me to regain my focus.