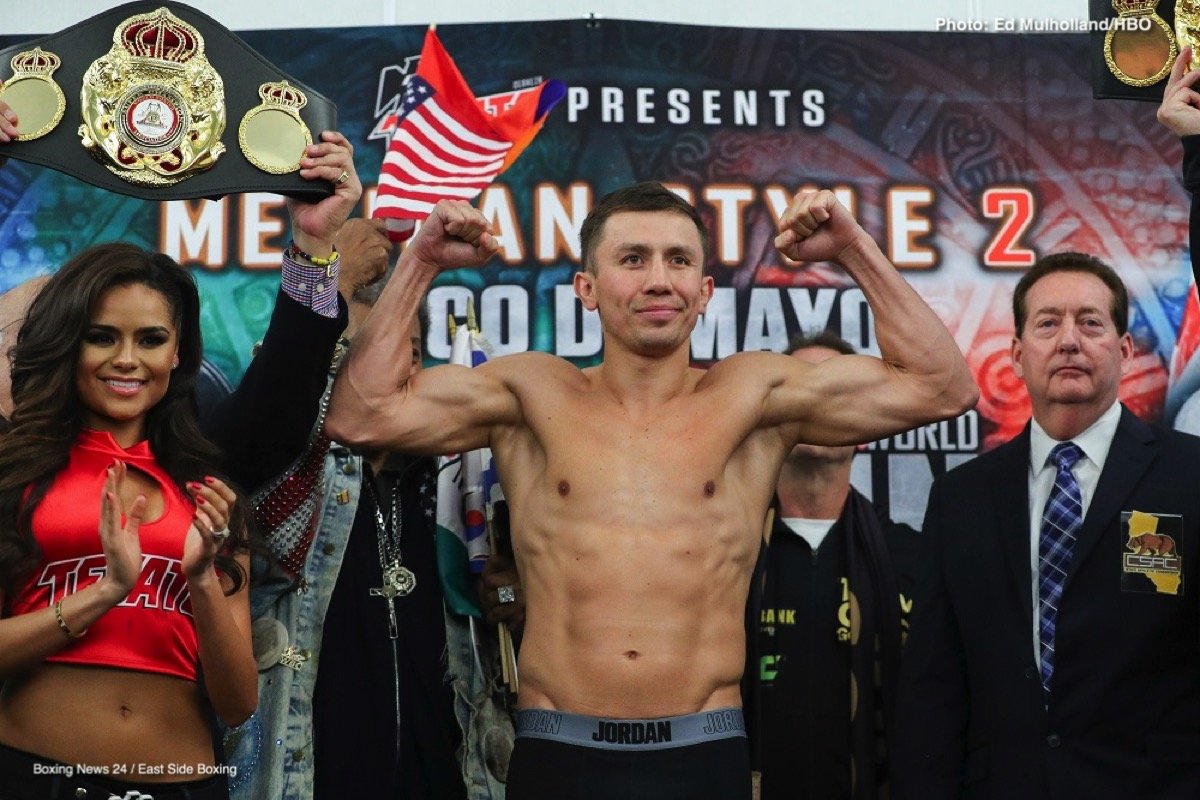 Gennady Golovkin (38-0-1, 34 KOs) was stripped of his IBF by the International Boxing Federation tonight after he chose not to agree in writing to fight his mandatory challenger Sergey Derevyanchenko by the IBF's mandated deadline of August 3.
The deadline for Triple G was Wednesday and he let it pass without contacting the IBF to let them know of his intentions to fight the 32-year-old Derevyanchenko. Golovkin's promoter Tom Loeffler was attempting to put together a fight against Saul Canelo Alvarez for GGG up until Tuesday. That's when Golden Boy Promotions CEO Oscar De La Hoya let ESPN know that the Canelo train is moving on and Golovkin will need to wait until May 2019 if he wants to fight Canelo. De La Hoya is looking to put together a fight between Canelo and Daniel Jacobs.
Derevyanchenko will now fight for the vacant IBF title against the next highest ranked available contender in the IBF's rankings.
Golovkin's problems with the IBF started when Canelo Alvarez pulled out of their May 5th rematch after testing positive twice for the banned substance clenbuterol. Had Canelo taken the fight, Golovkin would have been able to fight Derevyanchenko in August or September to satisfy his IBF mandatory defense that was due. Unfortunately, Canelo messed things up for GGG by testing positive for clenbuterol and then dropping out of the fight on three weeks' notice. So, Golovkin doesn't have the Alvarez rematch and he lost his IBF title to boot. Canelo really messed Golovkin up in a big way.
Below is the IBF's statement on GGG being stripped of his IBF 160lb strap:
"After a lengthy review and period of deliberation, the International Boxing Federation has vacated the IBF Middleweight title held by Gennady Golovkin. The IBF had to enforce the penalty under Rule 5H for Golovkin having participated in an unsanctioned contest within his weight class and declare the IBF Middleweight title vacant. The IBF will identify the two leading available contenders and order them to negotiate to fight for the vacant title."
The IBF are going to wind up with a less popular champion than Golovkin. It's not a good deal for the IBF unless Golovkin decides to fight the winner of the vacant IBF title, which he could easily do. Derevyanchenko is a badly flawed fighter with zero hand speed and lead feet. He's the ideal guy for Golovkin to beat up in a similar manner as he did recently in stopping Vanes Martirosyan in the 2nd round on May 5.
The IBF granted GGG an acceptation to fight Martirosyan on May 5 after Canelo dropped out of the fight and was given a 6-month suspension by the Nevada State Athletic Commission. However, the IBF didn't sanction the fight. They didn't strip Golovkin, but ordered him to fight Derevyanchenko by Aug. 3. The other sanctioning bodies, IBO/WBA/WBC, sanctioned the GGG-Martirosyan fight, but not the IBF.
It'll be interesting to see whether GGG goes after his old IBF title at a later point. That would a big plus for the winner of the vacant IBF title to get a fight against Golovkin. However, I don't think it furthers Golovkin's career to win back the IBF by fighting Derevyanchenko. GGG is better off fighting Jermall Charlo, Daniel Jacobs or Canelo. There's more interest from boxing fans in seeing Golovkin fight those guys compared to Derevyanchenko.