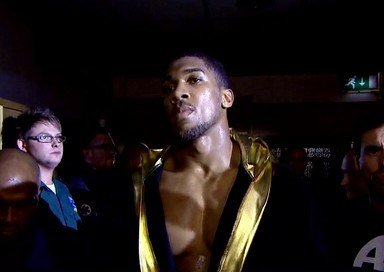 After the 2 fighters once again began trading barbs over twitter yesterday, and a host of fight fans began chucking in their two cents, Matchroom Boxing chief Eddie Hearn was forced to publicly intervene, thus giving his clearest indication yet that the big domestic heavyweight clash between rising star Anthony Joshua and Brixton's Dillian Whyte is firmly on his radar for later this year.
After tweeting that he would allow the two undefeated prospects to go at it in the ring, Hearn has today given an interview with Sky Sports in which he says he is eyeing November or December for the clash – a fight he refers to as "inevitable".
He said;
"This is a fight that is inevitable. I've been talking to Dillian Whyte for 2 months regarding this fight and we're looking to make it in November or December with the possibility of getting Dillain out in the meantime."
Dillian has maintained that he is still representing his own interests promotionally and managerially following his return to the sport, and that he has been looking to make a decision on which of the offers he had on the table was the best for him. He also said to me when I interviewed him a couple of months back, that he is wary of the big promotional names and their intentions and motivations – he's not wanting to play second fiddle to another heavyweight in a stable or to be fed up as an 'opponent' on short notice.
The exact details of these latest talks with Hearn are unknown, however.
"Fast Car" continued;
"Fights with hostility and bad blood sell and there's enough in this one as you can find in any rivalry. I'll be meeting up with Dillian this week to finalise the fight. The fact is that these two don't like each other."
Speaking about his man Joshua, Eddie said;
"Anthony has a great image and is a great ambassador for the sport but in the ring he's a very bad man. People tend to forget that. So it's a case of being careful what you wish for."
"It'll be interesting to see how he adapts to the mentality of the Whyte fight because that will be hostile – but that's a learning curve as well. You're going to see the sides of Anthony Joshua as opponents, situations and confrontations develop."
"He has an obligation to be a great ambassador – but, unfortunately, it's the fight game."
Twitter @Undilutedpoison