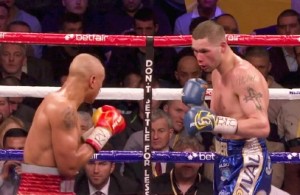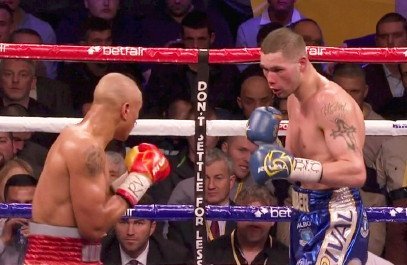 Now that Adonis Stevenson (21-1, 18 KO's) has the WBC light heavyweight title after obliterating Chad Dawson in one round, Britain's Tony Bellew, the #1 WBC 175 lb. contender, has come out of the woodwork and he wants his shot at Stevenson's new WBC title and he likes his chances in beating the 35-year-old.
Bellew said to Sky Sports "He's [Stevenson] the one I'd have preferred to face…it's not going to last long…Adonis Stevenson is wild and gives you opportunities. So I don't think he's going to be a long-standing champion, especially if I've got anything to do with it."
This is hilarious and a clear example of a pipe dream on Bellew's part. I wish I could give him a chance at beating Stevenson, I really do, but I can't help picturing Bellew walking out in the 1st round and getting pasted on the canvas with the first left hand that Stevenson throws. Bellew is so utterly hittable that it's not even funny.
He's just begging to be hit in grill with the way that he fight in such a straight up position. I honestly can't see Bellew lasting more than a few rounds at best. He'll have to play it safe if he doesn't get knocked out immediately, and I'm not sure that would even work against a puncher like Stevenson.
Stevenson wants bigger game than Bellew. He said he wants to fight Andre Ward and/or Bernard Hopkins next. I'd like to see those fights much more than seeing Stevenson annihilate Bellew in one round. We already saw Stevenson destroy Dawson last Saturday. I want to see Stevenson against some good fighters that have a chance. Ward would be perfect against Stevenson.
However, there's been no word at all from Ward since last Saturday night. He had to have heard Stevenson say he wants to fight him. I wonder what his thoughts about that fight? I rate Stevenson vs. Ward as a MUCH better fight than Ward vs. Carl Froch or Stevenson vs. Bellew. At least Stevenson has the power and speed to give Ward a lot of problems in theory.