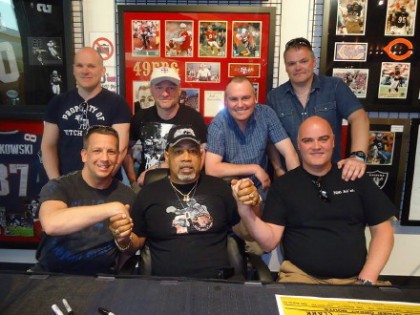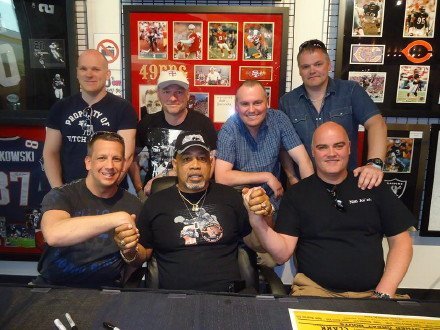 As fans have no doubt read by now, heavyweight legend and former world champion Ken Norton passed away earlier today. The magnificently conditioned former U.S Marine, most famous for his three epic fights with Muhammad Ali, suffered a stroke last year and had been in poor health since. Today, fans and former champions everywhere are sending out messages of condolence to Norton's family.
I had the opportunity to meet Kenny last year, in Las Vegas.
By way of a tribute to the Hall of Famer who met such heavyweight titans as: Ali, Larry Holmes, George Foreman, Gerry Cooney, Earnie Shavers and many, many more – I recall the short amount of time I spent with Norton during the Floyd Mayweather-Miguel Cotto fight week of May 2012.
As Fight Town was calming down after the huge Cinco De Mayo weekend that was topped by the great Mayweather-Cotto fight, I ran into Ken as he was doing a signing session at a sports memorabilia store on the strip. Then in his late 60s, the former champ had trouble getting around (doing so then mostly with the aid of a powered buggy – his condition the result of a near-fatal car smash in 1986), yet he had his marbles, was upbeat and cheerful and had certainly retained his sense of humour (my friend was given the Ken Norton staredown treatment, until both guys burst into laughter!).
Sporting a neat grey goatie beard and a fair amount of bling, Norton spoke almost in a whisper. Still looking formidable physically (Ken's hands, the weapons that once busted the great Muhammad Ali's jaw, were like shovels) Ken looked in fine shape actually; his biceps bulging and his chest also. Speaking briefly about his legenday career – one that saw him ply his trade during what was arguably heavyweight boxing's greatest era – Norton was most proud of his memorable, never-to-be-forgotten wars with The Greatest.
Upon speaking about the third fight, that contested the world crown in the summer of 1976, cheers broke out in the store. Also, some more passionate fans hollered how Norton was blatantly robbed by the three judges in the fight at Yankee Stadium. All these years later, and that 15 round UD still inspires anger.
Norton won his share of big fights, of course, but his second most famous ring rival, Larry Holmes, also beat him via close decision. Norton had nothing but fond memories of his awesome battle with Holmes, however. Kenny beamed when I mentioned his being enshrined in The Hall of Fame; another important moment in this great fighter's life and career.
It was a joy to meet Norton, even if his powers of speech were not what they once were, making his conversational skills limited. A true gentleman in every sense of the word, Kenny really did make my day – me and a ton of other fans, I'm sure.
R.I.P Kenny Norton, "The Fighting Marine."