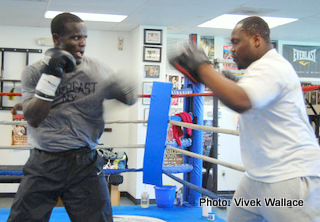 by James Slater – Though he is understandably upset at not having won the biggest fight of his pro career on Saturday (against pound-for-pound king Manny Pacquiao, if anyone needed reminding!), former IBF welterweight champion Joshua Clottey was kind enough to give me the following interview earlier today. Speaking on the distance fight with Pac-Man, his own future in the sport and what he feels may happen if and when Pacquiao faces Floyd Mayweather Junior in the ring, "The Grand Master" had the following things to say today:
James Slater: It's always a pleasure to speak with you, Joshua; especially so soon after the fight with Manny Pacquiao. Though you of course wanted the win, many people give you great credit for the way you toughed it out to the very end. Are you proud of your performance?
Joshua Clottey: Well, I wouldn't say I am proud of what I did, because I expected to win the fight. You know, boxing a lot of times is all about what goes on behind the scenes. I had the runs going into the fight. I had an upset stomach and I had to go to the bathroom twice in the dressing room. I felt weak on the way to the ring and it wasn't my day – I have to take the fight as a bad day for me..
J.S: I did read on a web site how you had a stomach problem, with something you ate. That obviously contributed to your loss?
J.C: I had an upset stomach, exactly. I'm not making any excuses either. I feel sad now, because of how I promised my people in Ghana that I would win. I felt great going from the hotel [to the fight arena] but as soon as I got to the dressing room I felt weak. All my energy was shut down in the fight. It was a very bad day for me.
J.S: When you did let your punches fly – your left jab, your right hand and your left uppercut – you scored well. What do you say to those people who say you never threw enough punches in the fight?
J.C: A lot of people claim I just wanted to protect myself in the ring, and that was not the case. Like I say, the behind the scenes things had a lot to do with what happened in the fight.
J.S: Pacquiao hit you with a lot of wicked body punches – did he ever hurt you?
J.C: He never hurt me in the fight. The reason is, I trained so hard for this fight. I was weak in the fight and couldn't give my best, but even then Pacquiao couldn't stop me.
J.S You did better against Pac-Man than Ricky Hatton and Oscar De La Hoya did, and you also proved Freddie Roach wrong regarding his 9th-round KO prediction. Does that give you satisfaction?
J.C: I knew I'd fight Pacquiao and prove Freddie Roach wrong [about his KO prediction for Manny]. I felt nothing in the fight. But still, I feel sad because I wanted to win the fight. I learnt a lot in this fight; I didn't know how to throw a million punches [like Pacquaio did], but if I'd have been able to fight the way I did against Cotto, I believe I'd have been able to shut Pacquiao down. But I was in pain in the ring, I was weak and had a runny stomach.
J.S: And did you not having your regular trainer have a big effect on you?
J.C: You know, I don't want to speak about my trainer [for this fight]. I will only say I love my regular trainer in Ghana.
J.S: You once again acquitted yourself well and proved yourself to be one of the toughest welterweights out there. Will you fight again?
J.C: Of course. I'm not going to retire. I have a good couple of years to be in the sport, and I'm on top of my game. I am sad about this performance, but I don't want to retire. I'm eager to get back and fight, and, as I've said, I only want to fight the best.
J.S: In your opinion, if Pacquiao ever fights Floyd Mayweather Junior, who will win?
J.C: The way Pacquiao fights, he will give any fighter problems – the way he throws so many punches. A lot of fighters throw a lot of punches, but Pacquiao throws them with energy; and he can take a good punch too. I don't think Mayweather should fight Pacquiao at a catch-weight. If he does, he's not gonna beat him because of the energy he [Pac] has. Pacquiao has so many advantages anyway. If I didn't have the good defence I have, he would have knocked me out. My defense allowed me to make it to the end of the 12-rounds, but that was not my [sole] intention. But with my [weakened] condition I had to protect myself.
J.S: Thank you so much for the interview, Champ. We look forward to seeing you back in the ring this year.
J.C: Okay, thank you. Bye.