Lawrence Okolie (16-0, 13 KOs) had too much firepower for the aging former cruiserweight champion Krzysztof Glowacki (31-3, 19 KOs) in beating him by a sixth-round knockout to claim the vacant WBO cruiserweight strap on Saturday night.
The end came in round six with the 6'5″ Okolie landing a scorching right hand that knocked Glowack down on his back at the Wembley Arena in London, UK.
At first, it looked as if Glowacki (31-3, 19 KOs) wouldn't get back up, but he surprisingly sprang off the canvas, looking like he was ready to continue. Referee Marcus McDonnell stopped the fight. The fight was stopped at :46 of round six.
In hindsight, it was a good decision by McDonnell, considering how unstable Glowacki looked on his feet. He needed the fight to be stopped anyway because he wasn't even trying to throw punches, and he was just taking punishment.
Glowacki was the textbook definition of an old fighter, unable to pull the trigger on his punches tonight.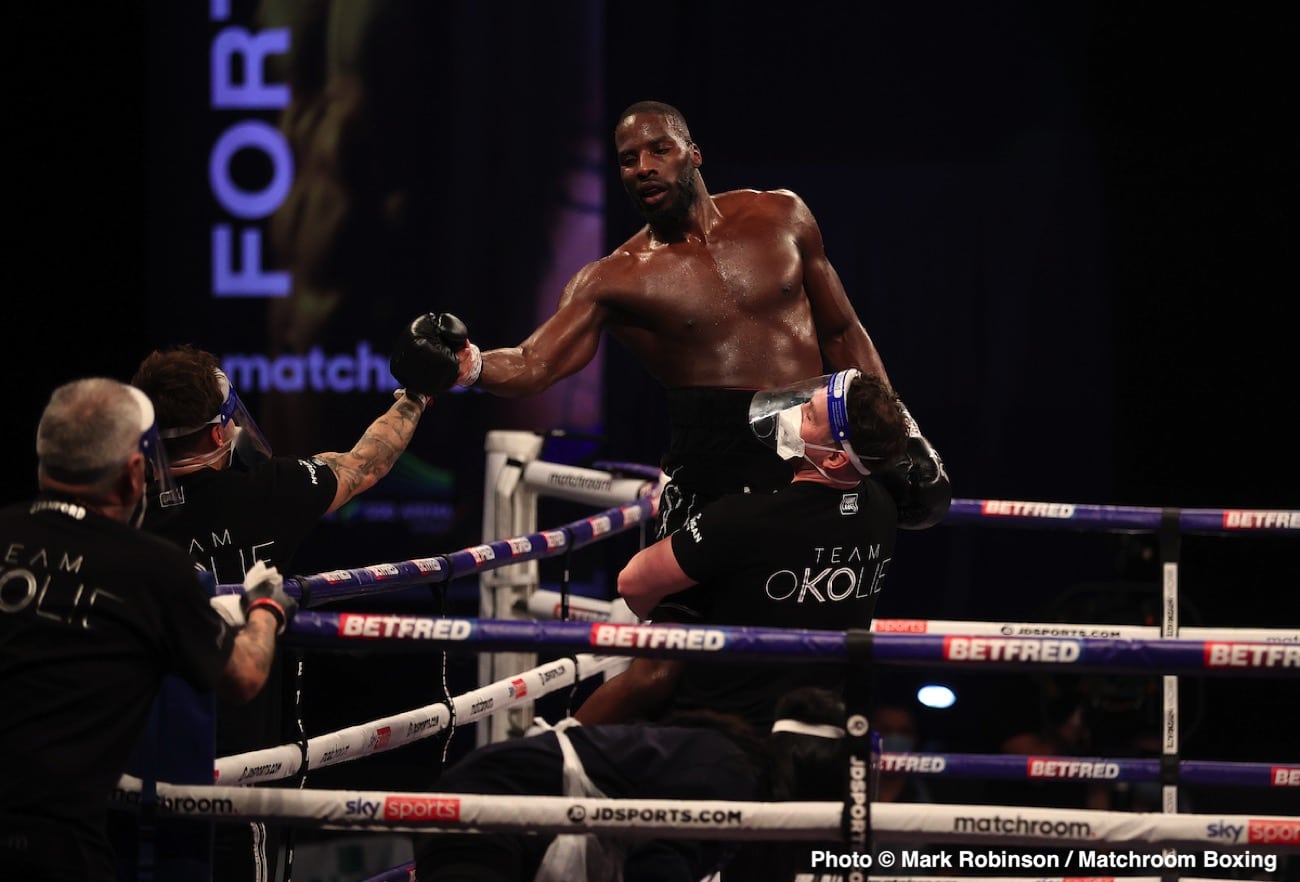 Okolie was there to be hit if Glowacki had darted forward to land shots the way that he needed to, but age got a hold of him and he wasn't mentally ready to fight the way he needed to for him to have a shot at winning.
Glowacki, 34, was bottled up on the outside the entire fight, getting picked apart by the powerful jabs and right hands from the heavy favorite Okolie.
On a few occasions, Glowacki did get inside and landed his left hand solidly to the head of Okolie, but he didn't do it nearly enough to have a chance of winning.
Okolie was dropping right-hand bombs and stinging jabs from the outside the entire fight.
Glowacki was moving his upper body and forever looking and waiting to move forward to throw, but he couldn't do it. He was afraid. That fear paralyzed Glowacki to the point where he couldn't do anything.
"It went exactly to plan. I said I'd get it done between rounds five-eight," said Okolie to Sky Sports News about his win over Glowacki.
"Out of the champions, Mairis Briedis is the one I'd most like to fight."
Glowacki is still an excellent cruiserweight, but he's not big enough to fight against heavyweights, and clearly, Okolie is a heavyweight. He's not a weight bully, but he's definitely a heavyweight that is draining down to fight against smaller fighters in the cruiserweight division.
Briedis, 36, holds the IBF cruiserweight title, and he's still at the top of his game. That'll be a tough fight for Okolie to take. He needs to make sure he wants that match badly enough to take the risk.
Okolie looked like a fully filled out heavyweight tonight, and it's confusing why he would want to stay at cruiserweight when he could make more money going up in weight.
It's got to be tough for Okolie to make the 200-lb limit as big as he is. If he loses to Briedis, it's going to be a major blow to his career. That's why he needs to think hard about whether it's worth it to keep draining down 20 to 25 lbs from heavyweight to fight at 200.
What Okolie should be doing is moving up to heavyweight to try and challenge the winner of the Anthony Joshua vs. Tyson Fury fight.
Okolie now has the WBO title, which means he can utilize that belt to get a #1 ranking at heavyweight in the same way Oleksander Usyk did recently. That would be better for Okolie than to waste time trying to unify the cruiserweight division against fighters that much smaller than.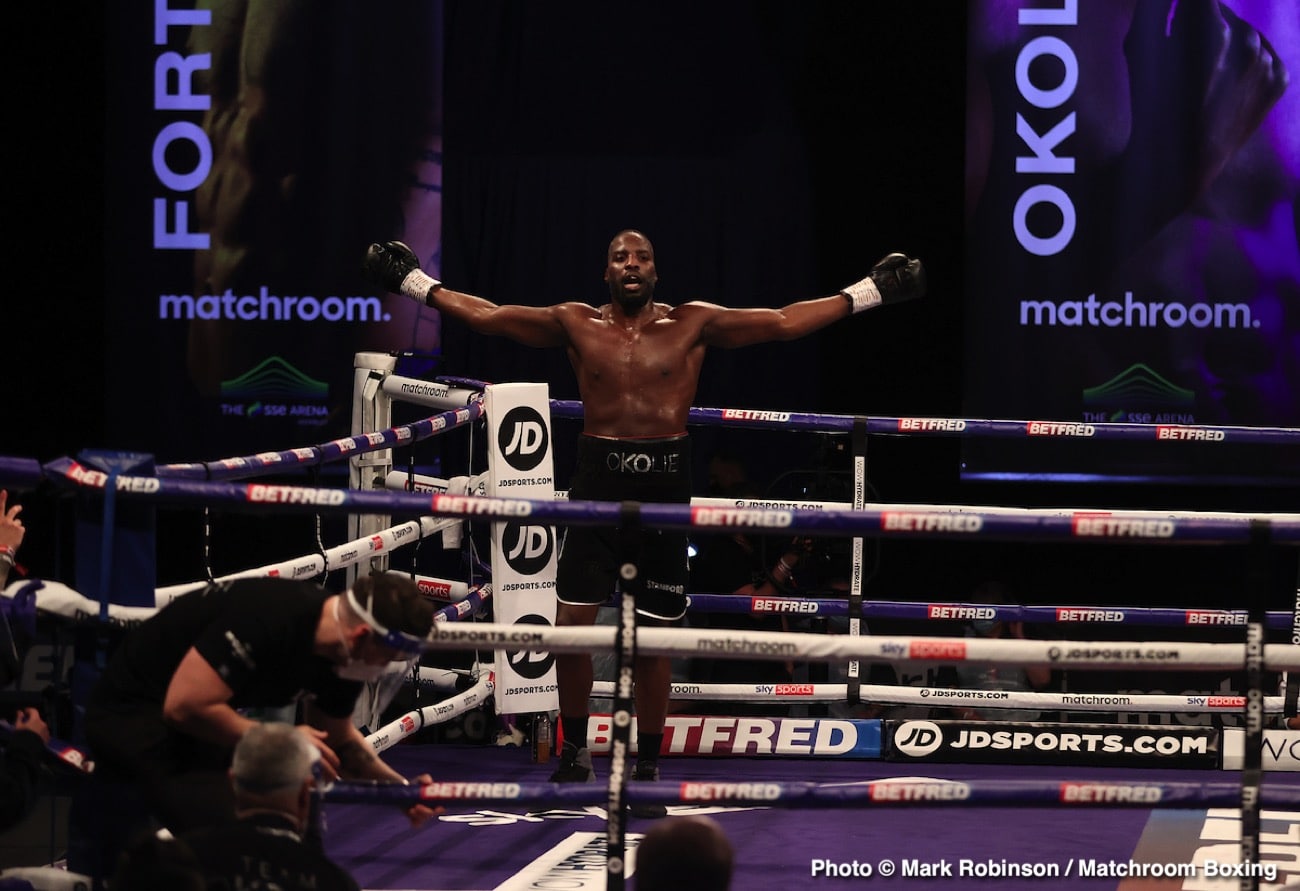 Undercard results on the Okolie vs. Glowacki card:
Super featherweight Joe Cordina (12-0, 7 KOs) beat Faroukh Kourbanov (17-3, 3 KOs) by a 10 round majority decision.
Cruiserweight Anthony Fowler (14-1, 11 KOs) smashed Jorge Fortea (21-3-1, 7 KOs) by a third-round knockout.
Cruiserweight Chris Billam-Smith (12-1, 10 KOs) defeated Vasil Ducar (19-4-1, 8 KOs) by a 10 round unanimous decision
Ramla Ali (2-0) beat Bec Connolly (3-9) by a six-round points decision.