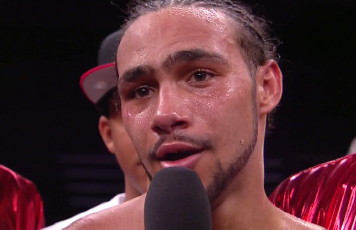 By Rob Smith: Unbeaten welterweight prospect Keith Thurman (18-0, 17 KO's) was thrust into the spotlight as the co-feature last Saturday night in a fight against Orlando Lora (29-3-2, 19 KO's) on the undercard of the Adrien Broner – Vincente Escobedo fight televised by HBO at the U.S Bank Arena in Cincinnati, Ohio. Thurman, 23, scored a 6th round TKO after he knocked the 31-year-old Lora down with a left-right combination in the 6th.
The left hand did most of the work, as Lora was really hurt from the shot and ready to go down. Lora got back up and instead of turning to the referee to get checked over to try and continue fighting, Lora walked straight to his corner and that was the end of the fight.
Thurman was interviewed after the fight by HBO analyst Max Kellerman and said "I'm ready for a belt. Paulie Malignaggi, I want your belt. Tim Bradley, I want your belt. Floyd Mayweather Jr., your unbeaten. I think I can defeat you. We want everyone in the welterweight division. They call you world champions. Come get some of Keith Thurman."
Thurman was supposed to have faced Marcos Maidana instead of Lora, who had no power to speak of. Maidana decided he didn't want to take the fight. I think Thurman may have really lucked out by Maidana not facing him, because Thurman doesn't appear to be a real big puncher, and his hand speed is god awful slow. He looks like a crude version of David Haye once you've removed the power, hand speed and boxing ability. Granted, Thurman has heavy hands, but he's not a huge puncher and his defense and hand speed are lacking in a major way. I'm still kind of baffled how Thurman ended up as the co-feature for this bout because he's so raw and crude at this point in his career. He doesn't have power like Victor Ortiz, and I think someone like Josesito Lopez would blast him out. The only thing I can see of Thurman is he looks big for a welterweight, and that could give him and advantage if he comes into his bouts weighing more than his opponent. He showed a decent left hook, but he's so slow that it won't help him once he starts facing better opposition.
Hopefully, HBO doesn't hype the guy too much before he's even faced anyone because I can't see Thurman going far.
Most of the fight, Thurman moved around the ring in circles, and would often back up against the ropes. He was wide open for right hands most of the time but Lora had no power to speak of, so that even when he would land a clean right hand, it had little affect.