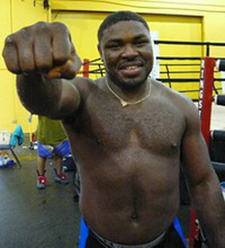 by Geoffrey Ciani – This week's 83rd edition of On the Ropes Boxing Radio featured an exclusive interview with former WBC heavyweight champion Samuel Peter (34-3, 27 KOs). When IBF #1 contender Alexander Povetkin recently backed out of his fight against IBF/WBO champion Wladimir Klitschko, this opened a door for Peter to be his replacement. Peter and Klitschko first squared off back in September 2005. Klitschko was awarded a unanimous decision for his efforts. He did, however, suffer three knockdowns in the process. That inherently makes this rematch one of the more interesting fights that can be made in the heavyweight division, especially since Wladimir has not been involved in a competitive fight since that night almost five years ago. Here is what Peter had to say:
On how he feels about getting the opportunity to have a rematch with Wladimir Klitschko:
"I'm feeling great. We're going to start where we left off on in 2005. We do it again on Spetember 11."
On what he believes he will be able to differently this time in order to beat Klitschko:
"The system has been upgraded. I have been upgraded, so on September 11 everybody will see what will be going down."
On how he believes he has improved since their last fight:
"I always improve myself. In time I always come around and I always improve myself to show the world. I know everybody was counting Sam Peter out, but they're going to find out they have to count me in again."
On what it would mean for him to become heavyweight champion again:
"It would mean a lot to me. That's why I'm just going to put myself out. I lost it before but it was not me. It was a loan. I just loaned the belts out to go in order for them to do what they do. I'm going to prove myself again to all the people and win all of my belts back all together. So it would mean a lot for me to go out there and do what I'm supposed to do to get the heavyweight championship back."
On what it mean to him when he won the WBC heavyweight title from Oleg Maskaev:
"It was an honor to be heavyweight champion of the world. It was meant to be for me to be one of the heavyweight champions of the world. It meant a lot for me to have that crown. It meant a lot to me."
On whether he would be able to immediately have a rubber match with Wladimir in the event he wins their rematch:
"Definitely! Even that same night, they better be ready because it's not going to be long. I would still beat him again that same night."
On what he was able to do to get himself back on the winning track following back-to-back losses against Vitali Klitschko and Eddie Chambers:
"You know it was kind of like when I was parting from my former promoter because things weren't right. So I just had to find a way to get myself back and sit back and think about myself. Before that I didn't think. They just called me for a fight and I'd go. I didn't know how the business worked then, but now I know. I'm a businessman now. So I just think this is what I got and this is the business I have. I have to sit down and think and put myself together. I discussed it with my manager and we moved on that route to move on with our career."
On what he thinks about David Haye:
"Well he's doing his thing but I have to take care of business on September 11 before I start thinking about anybody right now. September 11 is the main target for me right now."
On what he thinks of David Haye as a heavyweight champion:
"He's a good champion. It's not easy to be a champion. He won't have to be there. Pretty soon I'm going to do my collections."
On what adjustments he was able to make when he showed considerable improvement in his rematch with James Toney:
"I would think the difference is when I'm ready to fight. The first time I beat James Toney. The second time I beat James Toney. I don't know why people always say the first time I didn't beat him. I beat him the first time. I beat him the second time. I beat him the way I wanted to beat him. I proved what I went out to prove. Anytime I go out there I always want to be ready. I always change my movement and my skills whenever I need to and I just want to put on a good fight."
On his fight against Jameel McCline when he suffered a couple of knockdowns:
"God was on my side. The first time I was dropped. I lost my equilibrium. My ear drum was broken, my hands were low, everything was just wrong. But I just proved that I could be champion. I would not let this guy stop me from getting my first world title. I have to be strong and prove that I still have the makeup to be a champion."
On whether he believes Wladimir will have a mental advantage over him going into the rematch:
"The other way around. What's going to happen is he's going to show weakness September 11. He knows who I am. That's why I'm saying on September 11 he's going to show weakness."
On how he was able to regain focus in his career:
"It was because my former promoter and the stupid people I worked with before, they wanted to drag me down. They didn't even know how to build a fighter. They wanted to be destroyers and not builders. I'm very good with the new promoters and they build me. See what happens right now. Before everything was just so crazy, they were just building me to destroy. They were not building me to build for life. So I just stood by and looked at myself. If you look at me, I'm better then what they think and I'm going to everybody wrong and now I'm proving them wrong. I'm going to prove them wrong September 11. Check me out."
On how he feels about the fact that most people view him as an underdog:
"Yeah I like when people keep on thinking like that because some people, they are thinking with their legs. They are not thinking with their heads or brains. They don't see what I see. They don't know what I know. Let them keep on thinking. I love that."
On why he first started using the nickname "The Nigerian Nightmare":
"Because I always give people nightmares. From day one, the person that I would knockout it would be a nightmare for him because he was still dreaming after I've left the ring from Vegas. So that's how the name came about."
On how he feels about being promoted by Top Rank and Bob Arum:
"Well I feel great. I give all praise and I thank God for giving me to Bob Arum. I recently thanked Bob for everything he has done. He didn't count me out like everybody counted me out. When I win he's always there to talk to me about it. He said, 'Sam I'm just going to work you and put you back in there' and that's what he did and now I'm going to be the next heavyweight champion of the world and a two time heavyweight champion of the world. It's a good promotion Top Rank. It's the best. For me it's the best because when everybody was counting me out Bob did not do that. He said, 'I'm going to rush you back and put you right back in' and that's what he did."
On what he would say to Wladimir Klitschko if he was with him face to face:
"I just want him to be ready, no excuses this time around."
On his final prediction for his rematch against Klitschko:
"It's not going to be too long."
On what he wants to say to his fans and the listeners of On the Ropes Boxing Radio:
"I just want to thank all of my fans and tell them Samuel "The Nigerian Nightmare" is back. You are going to see a very good exciting fight this time around. No bullshit, I'm ready. I'm ready to go. I know my fans are going to be really happy with me this time around because it's going to be a short night."
***
For those interested in listening to the Andy Lee interview in its entirety, it begins approximately twenty minutes into the program.
***
For more information about On the Ropes Boxing Radio please visit our website:
http://www.ontheropesboxingradio.com
To contact Geoffrey Ciani or Jenna J:
ontheropes@boxing247.com
To read more by Ciani or Jenna please visit The Mushroom Mag:
http://www.eatthemushroom.com/mag