Last Friday night at the UIC Pavilion in Chicago , Illinois , fight fans were treated to another great night of boxing as Chicago 's native son, Cestus Management Fighter Donovan George, scored another jaw dropping win. "DA BOMB" (19-0-0 w/17 Kos ) completely dominated and destroyed Phil "The Drill" Williams knocking him out in 2:43 of the 3rd round. In the 3 rounds that the fight lasted George showed that he is starting to evolve into a formidable fighter as his speed, boxing aptitude and shocking power all came together as he executed the big punching Williams with brutal efficiency. "DA BOMB's" sharp jab, power combination's and balanced footwork were just too much for "The Drill" to handle..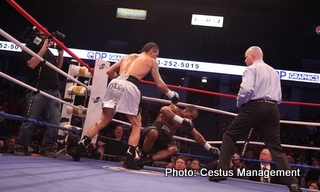 Gina Iacovou, Cestus Management's CEO, said, "This really is a big win for Don as (Phil) Williams has fought very good opposition in his career and stopped most of his opponents. This is the type of performance that let us know that Donovan is ready to take the next step in his boxing career."
Mike Michael, Cestus' Chief Advisor, said, " Chicago fans were thrilled tonight and Williams got drilled by "DA BOMB". The way he (George) dissected Phil Williams with his fast jabs and combination's to the head and body; Williams just didn't stand a chance!" Michael continued, "I'm ecstatic about Donovan's performance tonight as he showed that he belongs at the world class levels of boxing. So lock the doors and run for cover because 2010 is is going to be an explosive year!".