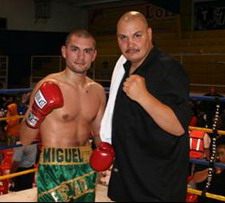 March 30, 2008 — WBC CABOFE middleweight champion Miguel Espino successfully defended his title on Saturday with a dominating performance over Eliu Duenas at the "Gimnasio Tigre Garcia" in Ensenada, B.C., Mexico. The former Contender TV series star came on strong in the 3rd round with devastating body punches to knock down Duenas five times in rout to a TKO.
Duenas came out strong throwing haymakers the first two rounds and tried to smother Espino. Espino dropped Duenas with a body shot early in the 3rd round and continued to put pressure on him. The fight fans in attendance rose to their feet and cheered on the champ as he continued to try and put holes in Duenas body until the referee halted the bout..
When manager/trainer John Bray was asked about Espino's performance, Bray said that "I was really happy with Miguel's performance tonight. Miguel is getting ready to fight for a world title this year. In preparation for that, he showed a lot of composure and took the guy down. He is becoming an "A" quality body puncher." The bout was brought to you by Cota Boxing Promotions.