Only a few days after WBO #2 rated Marcos Ramirez (25-0-0, 16 kos) pulled out of his fight against hot Cuban prospect Yuriorkis Gamboa (9-0-0, 8 kos) on May 17th featured on HBO's "Boxing After Dark" joining promoters Ahmet Öner (ARENA Box-Promotion) and Gary Shaw (Gary Shaw Productions) present Gamboa's new foe: Darling Jimenez from Puerto Rico..
28-year-old Jimenez won 23 of his 27 pro-fights including 14 stoppages. He comes from six straight ko-wins, the last one against "The Powerful" Mike Anchondo (27-2-0, 19 kos) back in April 2007.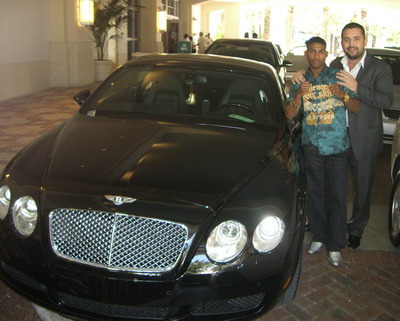 Gamboa: "I don't care who I'm fighting. I will knock out everybody who crosses my way to the world championship."
Promoter Ahmet Öner agrees: "Gamboa has to face strong opposition to develop and improve. Although he's already competing at a level not many fighters ever reach in their careers. He's nothing but a phenomenon – and he will prove that against Jimenez."
To show that he really is on the fast track Gamboa just bought himself a brand new Bentley to cruise to the streets of Miami as fast as he's rushing through the ratings. The 2004 Olympic gold medallist and reigning NABF junior lightweight champion is already rated on #5 by the WBA and #8 by the WBC.