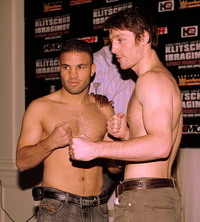 By Wray Edwards, Photos (c) Wray Edwards/ESB: Irish Middleweight John Duddy (23-0, 17 KO's, 158.5 lbs.) will appear at Madison Square Garden in the Co-Main Event leading up to the Heavyweight Unification Championship between Wladamir Klitschko and Sultan Ibragimov.
Duddy will duke it out in a ten round fight with Walid Smichet (17-3-3, 13 KO's, 160 Lbs.) from Brooklyn, New York (B. Tunisia, Res. Montreal)
Duddy, not content to have a reclusive career in the safe confines of his native land, has been shuttling between Ireland and the U.S. to become a star on both sides of the Atlantic. His style is rough and ready, and should make a great warm up for the main event. Here are the undercard weigh-in photos and weights.: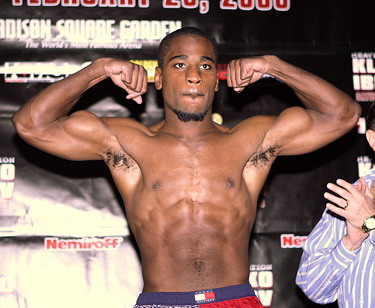 In other action, Middleweight Joe Green (17-0, 17KO's, 157.25 Lbs.) from Queens, New York will meet…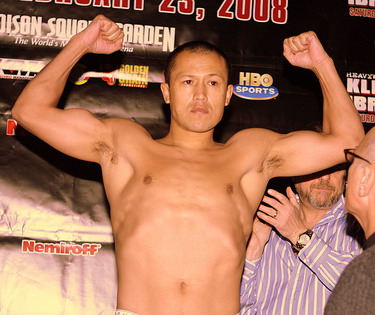 Francisco A. Mora (52-12,35 KO's, 159.5 Lbs.) from Cordoba, Argentina for twelve rounds in an NABO/NABA Championship contest.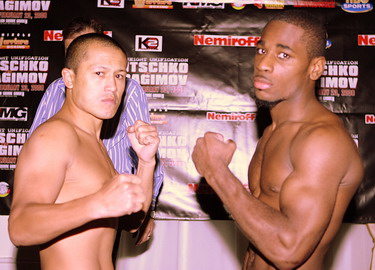 They won't be doing still poses when they get in the ring. They are both very agressive and hungry. Should be a real war.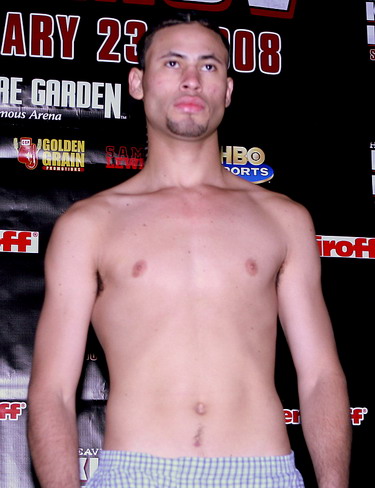 A Junior Middleweight bout between Ronnie Vargas (5-0, 4KO's, 152 Lbs) fromNew York, N.Y. is scheduled to fight…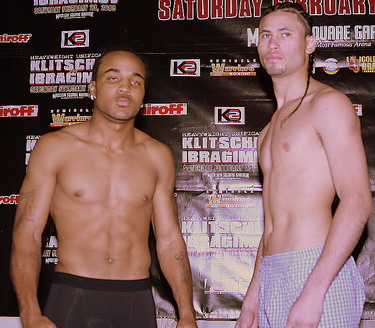 a four round Junior Middleweight bout with Monyette Flowers (4-8-1, 2 KO's, 149 Lbs.) from Memphis, Tennessee.
Here are photos of Peter Quillin, Thomas Brown, Imamu Mayfield and Johnathan Banks who will all be in action on the undercard:
ESB will be apron-side to cover all the action. See you at the fights.