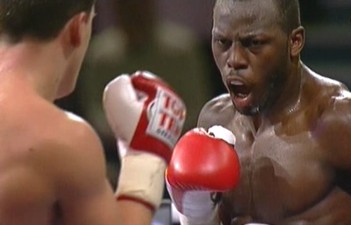 Philadelphia (December 31, 2007)—Spending the holidays 4,000 miles away from home and facing a hostile crowd was not enough to keep International Boxing Federation Cruiserweight champion, Steve "USS" Cunningham from breaking down previously undefeated & number-one ranked Marco Huck by scoring a sensational twelfth round stoppage to make the first defense of his title in a bout that took place last Saturday night in Huck's hometown of Bielefeld, Germany.
Boxing fans can relive the emotional fight as Cunningham showed why Ring Magazine named him the best boxer in the cruiserweight division as he mixed in a Piston-Like jab an assortment of hooks, crosses and uppercuts all while slipping and shaking off the furious assault until he forced the corner of Huck to throw in the towel before Cunningham would score in inevitable knockout victory.
Cunningham, 21-1 with eleven knockouts, was greeted in two different airports (Hanover & Frankfurt) by throngs of fans, mostly German natives, who stood in line to get autographs and take pictures as millions of boxing fans witnessed the fight live on free television all over Germany.
Cunningham's heart and determination won the admiration of the fans who were thrilled to be able to rub shoulders with the champion.
The champion and his wife Elizabeth are now home enjoying a late but joyous holiday with their two children.
CLICK HERE TO WATCH THE FIGHT