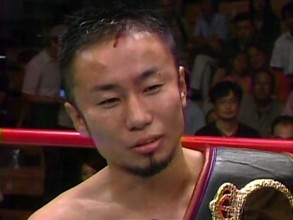 02.09.07 – By Jim Furusho: WBA minimumweight champion Yutaka Niida (22-1-3, 8 KOs) successfully defended his title with a 12-round unanimous decision victory over Eriberto "Yukka" Gejon (23-2-1, 14 KOs) on Saturday night at the Korakuen Hall, in Tokyo, Japan. The two had previous fought in two years earlier in a bout that Niida won by split decision, leaving neither of them feeling satisfied with the outcome.
Gejon, 28, a native of the Philippines, and ranked as the # 1 challenger in the World Boxing Association and # 4 for the International Boxing Federation, was the aggressor in the first four rounds of the fight. Using his five inch height advantage, the 5'5" Gejon kept the champion Niida bottled up on the outside where he was unable to use his fast hands to do any damage.
Beginning in the 5th round, however, Niida started finding his way on the inside more often, bombarding Gejon with five-punch left hook combinations to the ribs. The speed with which these punches were thrown, were nothing short of spectacular, and the sound was like explosive fireworks as they landed.
By the time Gejon would attempt to retaliate with a punch of his own, Niida would move out of range in a flash, frustrating Gejon over and over. Over the last half of the fight, Niida controlled when and where the fighting would take place, and avoided Gejon's right hand shots. The final judges' scores were 117-111, 117-112 and 117-112, for Niida. The victory was the sixth title defense for Niida, who won the title in 2004.
Possibly a next opponent for Niida could be Roman Gonzalez, (14-0, 14 KOs) an undefeated knockout artist from Nicaragua.