photo by Sergey Vinogradov: Unbeaten heavyweight hopeful Alexander Povetkin and American veteran Larry Donald visited Red Square yesterday following their official press conference in Moscow. The 2004 Olympic gold medal winner is looking forward to the biggest challenge of his career: "I am excited to fight a strong man such as Donald in front of my home fans," the 27-year-old said ahead of the clash on June 30..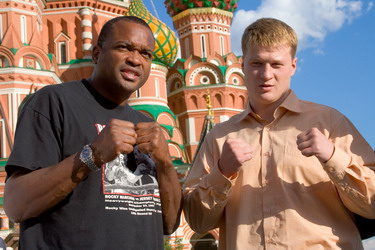 Povetkin (12-0, 10 KOs) has set his sights on the 13th win in as many fights, while 40-year-old Donald (42-4, 24 KOs) is eager to put himself back in line for a shot at the world title. The American last fought in October 2005 when he lost a WBA title eliminator against Nikolai Valuev.
The fight will be televised in over 25 countries.