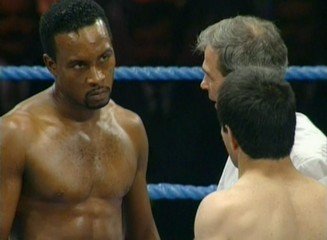 In what is perhaps a light-hearted piece of news, legendary British former world champion Nigel Benn (42-5-1, 35ko) has joined twitter.
A tweet from his son Conor yesterday morning read;
"Follow my old man peeps!" and gave out the @NigelGBenn handle.
Just a couple of hours later, Benn himself took to twitter and said;
"People keep asking if this is the real Nigel Benn. Course it is. What do you want to know? I'm all over UK doing Q and A's but I'll try keep up."
Benn flew into London from Australia where he now lives and met up with old rival and friend Michael Watson in celebration of his 50th birthday earlier this week.
Tonight he will be at Alex and Christine Morrison's gym in Glasgow as part of a series of Q&A/dinner shows and media that he is doing while here.
The legend, who won world titles at both 160 and 168lb was involved in some legendary nights in his career, that sadly was always slightly tarnished by the tragic injuries suffered by Gerald McClellan in their absolute war that took place in London in 1995.
In just over 24 hours the @NigelGBenn account has 2841 followers!
Twitter @undilutedpoison