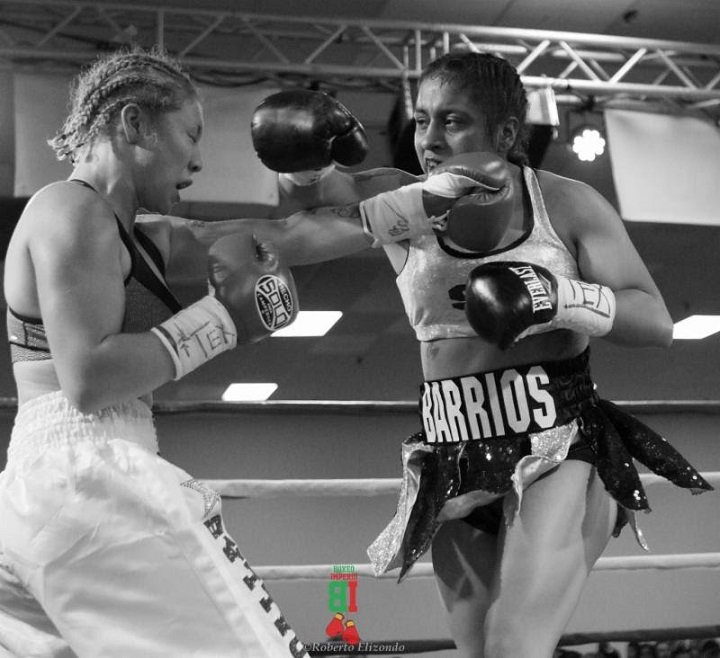 Two days after Halloween, unbeaten female sensation, lightweight Selina "Aztec Queen" Barrios (2-0, 1 KO), has spooked her opponent, Zarina Tsoloyeva (Pro Debut) from Zhaksy, Kazakhstan, as she backed out of their scheduled 4-round bout, set to take place today at The Rayne Civic Center in Louisiana. Tsoloyeva refused to step on the scale at yesterdays weigh-in.
Selina Barrios is one of the most avoided female fighters in the United States and now Kazakhstan. Ebony Jones from Alabama, Alpha Patricia Lopez from Mexico, and now Zarina Tsoloyeva from Kazakhstan, all signed to fight Selina but backed out to fight her at the last minute. Jones and Lopez were no shows, while Tsoloyeva who is from the distant land of Kazakhstan, showed up to the weigh-in, but declined to step on the scale.
"I was willing to fight Zarina Tsoloyeva, the decorated amateur from Kazakhstan, but she pulled out at the last minute, like my last two opponents." said Selina Barrios from San Antonio. "It's been very difficult getting opponents to fight me. I've always said, I don't care who they put in front of me, I'll fight anyone. I have that much confidence in my skills. I have no choice but to move on, but I'm respectfully sending a message to everyone in the lightweight and super-lightweight divisions, I'm not going anywhere, eventually you will all have to fight me."
Nothing will derail Selina as she stays positive and continues to work hard, looking for that opportunity to challenge the best the lightweight and super-lightweight divisions has to offer. Selina's handlers must now move her to six and eight round bouts right away, to chip away and get to a championship fight as she gains more ring experience as a professional.
"Looking at all the top lightweights and super-lightweights, I predict Selina will fight for a world championship before her tenth fight," said advisor Kerry Daigle. "Possibly by fight number seven or eight. We're going to move her into six and eight rounders moving forward. I'm already in talks with the sanctioning bodies to get her ranked."
"If no one wants to fight me, then I'm calling out all the name fighters in the division," Selina Barrios continued. "Amanda Serrano, Mikaela Mayer, Jessica McCaskill and of course, Katie Taylor, I'm willing to fight you guys anytime, anywhere. Like I said, at some point, you will all have to fight me."