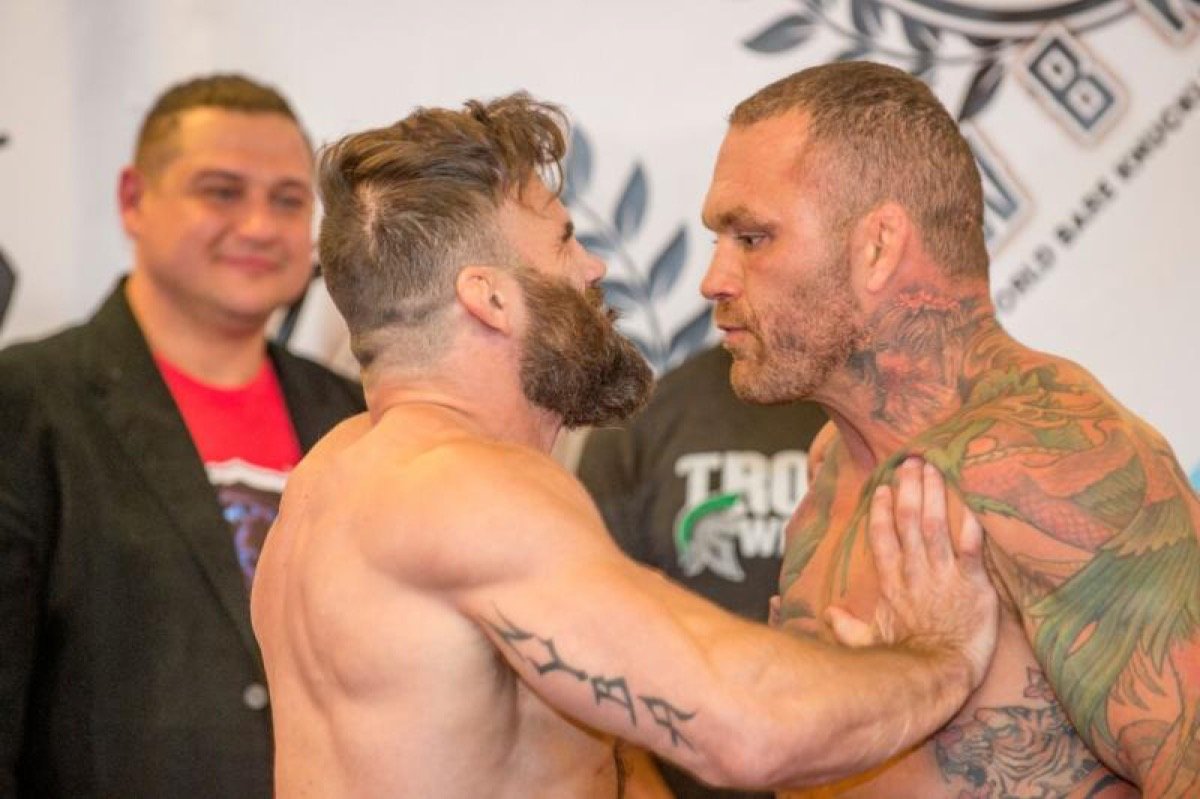 The World Bare Knuckle Fighting Federation (WBKFF) will make their inaugural promotional debut at the Casper Events Center in Casper, Wyoming on November 9th. The nine-bout card, "Rise of the Titans" will be distributed by Integrated Sports Media on pay-per-view in the United States and Canada and streamed worldwide on the FITE.TV app and website.
Photo by Christopher Cooks
"We created WBKFF because we wanted to bring boxing back to its purest form of fighting like it was in the 1700s when the sport was invented," said UFC Hall of Famer and president of WBKFF, Bas Rutten. "We cannot wait for fight fans to see what boxing should have been, which is more action-packed, strategic fighting."
In the main event of "Rise of the Titans," MMA fighters, Chris "The Crippler" Leben and "The New York Bad Ass" Phil Baroni will fight for the light heavyweight title. Former UFC welterweight champion, Johnny "Big Rigg" Hendricks will square off against MMA veteran, Dakota Cochrane for the middleweight title, in the co-main event. Cochrane replaced "Irish" Brennan Ward a couple of days before the bout. Ultimate Fighter runner-up, Christina Marks takes on professional boxer, Jasmine Clarkson for the female bantamweight belt.
The rest of the pay-per-view undercard consists of welterweights, Josh "The Dentist" Neer vs. "Mad" Mike Alderete, middleweights, Joey Angelo vs. Julian "Hellboy" Lane, and Marcelo "Mello" Alfaya vs. Joey Munoz at a 180-pound catchweight.
The preliminary card includes former UFC fighter Issac Vallie-Flagg vs. Corey Simpson at a 175-pound catchweight, super heavyweights, C.J. "Big Cake" Leveque vs. Juan Torres, and Fred Pierce vs. Jeff Chiffens at a 160-pound catchweight.
"We have a stacked fight card that will feature three world title bouts, one of which is for the female bantamweight championship, and six additional, extremely competitive fights," said Rutten. "Fight fans are definitely going to get their money's worth on November 9th and get an up-close-in-personal view of one of the most exciting sports in the world."
Over the last decade, bare-knuckle boxing has become one of the fastest growing sports in the world, especially in the United States and the United Kingdom. Wyoming became the first state in America to legally sanction and regulate the sport on March 20, 2018. Mississippi became the second state a couple of months later. While bare-knuckle boxing was never illegal in the United Kingdom (where it originated), no one promoted the sport until 2017 when numerous sanctioned bare-knuckle fights took place in London and Liverpool.
It took several fight organizations and promoters more than a decade to make bare-knuckle boxing a legal sport in the United States. Many states were afraid that the sport was too dangerous and that if it became legal than fighters would die in the ring due to the bloody, vicious nature of the sport. This was the main reason that twenty-seven states refused to legalize the sport. However, according to Rutten, numerous medical studies have refuted this public notion that bare-knuckle boxing is more dangerous than other combat sports.
"While it is true that bare-knuckle fighters sustain more super facial cuts and bleed a lot more than other combat sports, it is still safer than the other combat sports because bare-knuckle boxers throw more punches to the body than the head, which does not happen in other combat sports," said Rutten. "In bare-knuckle boxing, there is a greater likelihood of breaking your hand when you hit your opponent's head, so 60% of the time, fighters hit their opponent's bodies, instead of their heads. This, in turn, leads to less head trauma and fewer concussions."
The last notable bare-knuckle boxing fight that took place in the United States was over 129-years ago on July 8, 1889, when heavyweights, John L. Sullivan (Boxing Hall of Fame inductee) defeated Jake Kilrain in the seventy-fifth round in New Orleans, Louisiana. Boxing became legal in America three years later.
"Our company has signed a hundred fighters over the last couple of months from various combat sports backgrounds like MMA, UFC, Bellator, and boxing," said Rutten. "I believe the reason that so many fighters want to join our sport is that it offers them more of a challenge and it is more rewarding to defeat an opponent without any gloves because they have to rely more on their will and determination in order to prevail."
Bare-knuckle boxers do not wear boxing gloves, instead, they have hands wraps that end just below their knuckles. They can hold, strike, and throw spinning back fists and hammer fists on their opponent, but they cannot use their legs. Fighters box for five (two-minute) rounds inside a thirty-four-foot circular ring, and if bout goes the full distance, the winner will be decided by three ringside judges. There is a standing eight-count and a three-knockdown rule.
For more information on WBKFF and the latest updates on their upcoming fights, you can find them on Facebook and Twitter @WBKFF and on Instagram @WOLRDBKFF. Their website is wbkff.com.