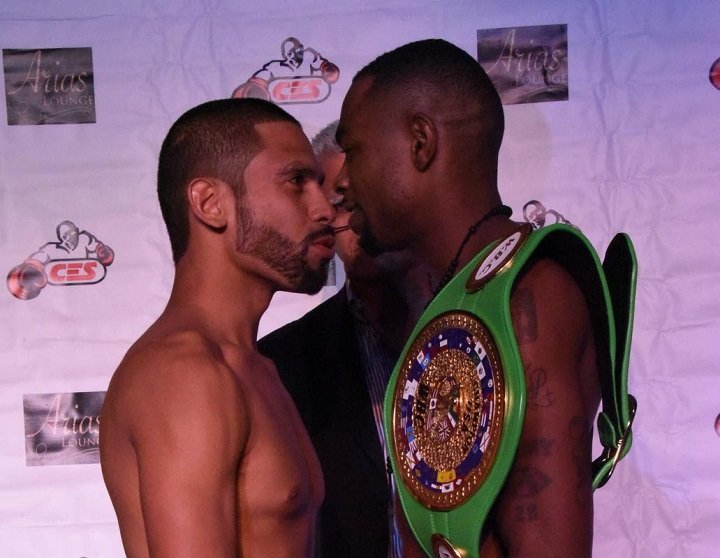 Fireworks are expected tomorrow night at Twin River Casino as several regional showdowns take center stage on CES Boxing's latest showcase, the fifth event of 2017 as New England's No. 1 promotion continues its year-long 25th anniversary celebration.
(Photo credit: Melissa Agrest)
Headlining Saturday's event is reigning World Boxing Council U.S. Boxing Council (WBC USNBC) Welterweight Champion Jimmy Williams (14-0-1, 6 KOs) of New Haven, Conn., in his second title defense, battling New Jersey's Juan Rodriguez Jr. (13-4, 5 KOs), in a 10-round bout, but the preliminary card is can't-miss television, especially the four-round super featherweight showdown between Providence's Michael Valentin (1-0, 1 KO) and New Bedford, Mass., newcomer Henry Garcia.
The war of words began during the post-weigh in staredown and escalated when Garcia's trainer, "Sucra" Ray Oliveira Jr., spoke during the press conference, eyeballing Valentin directly, which prompted the 18-year-old Valentin to fire back from his seat in the crowd.
Cooler heads prevailed, but the stage has been set for what should one of several intense battles on tomorrow's preliminary, one of 12 total fights. In the heavyweight division, Californian Matt McKinney (5-2-2, 2 KOs) flew nearly 3,000 miles to face what will be his toughest test to date against hard-hitting Sicilian Juiseppe Cusumano (12-1, 10 KOs), who fights for the third time since June.
McKinney acknowledged this is the kind of fight "you need to win to climb that ladder" and is confident he can end 2017 on a positive note; he is 3-0 this year, which includes a win over previously unbeaten Jay McFarlane in New York on the Gennady Golovkin-Danny Garcia undercard.
Doors open at 5 p.m. ET Saturday and the first bout begins at 5:45. The FIGHTNIGHT LIVE stream begins at 7.
Tickets are priced at $47.00, $102.00, $127.00 (VIP) and $152.00 (VIP) and can be purchased online at www.cesboxing.com, www.twinriver.com or www.ticketmaster.com, by phone at 401-724-2253/2254 or at the Twin River Casino Players Club. All fights and fighters are subject to change.
As for the main event, Rodriguez seeks redemption after losing to Nick DeLomba in his Twin River debut in 2015. As he stepped off the scale at a lean 145 pounds Friday, he stood toe-to-toe Williams and proclaimed the reigning champion's infamous green belt "mine" during a spirited staredown. Williams is on a roll, having won his last 10 bouts, including his first title defense in August against Issouf Kinda.
Tomorrow's after party will be held at Murphy's Law in Pawtucket, R.I., where fans can watch the Pay Per View showdown betweenGolovkin and Canelo Alvarez live from Nevada. Combo tickets for both the live event at Twin River and the after party are available for $55, while separate after party tickets are on sale for $30 at the door.
Worcester, Mass., junior welterweight Jamaine Ortiz (5-0, 2 KOs) returns to face Cleveland's Darnell Pettis (1-5) in a four-round bout. Tomorrow's event also features a six-round junior middleweight battle between New Bedford, Mass., vet Ray Oliveira Jr. (7-1, 1 KO) and Meriden, Conn., native David Wilson (5-1-1, 1 KO), plus unbeaten Worcester middleweight Kendrick Ball Jr. (7-0-2, 5 KOs) returns for the 10th time in just 16 months when he battles Durham, N.C., vet Pablo Velez Jr. (7-1-1, 5 KOs) in a six-round bout.
Featherweight Jonathan Perez (2-1-2, 2 KOs) of Lawrence, Mass., battles unbeaten Providence native Ricky Delossantos (2-0) in a four-round bout and Stoughton, Mass., welterweight Travis Demko (4-1, 1 KO) faces fellow Massachusetts native Marqus Bates (2-1, 2 KOs) of Taunton, also in a four-round bout.
Providence, R.I., lightweight Anthony Marsella Jr. (5-0, 2 KOs) in his fifth Twin River appearance, faces 20-fight vet Israel Rojas (12-18, 4 KOs) of Sonora, Mexico in a six-round bout and Groton, Conn., bantamweight Marcia Agripino (1-0-1) ends a four-year layoff when she faces New York vet Federica Bianco (2-1, 1 KO). Providence featherweight Phil Dudley (1-0) locks horns with Worcester's Philip Davis (0-1) in a four-round bout and Worcester cruiserweight Jake Paradise makes his professional debut against fellow newcomer Rafiel Nyakoko, also of Worcester, in a four-round showcase bout.