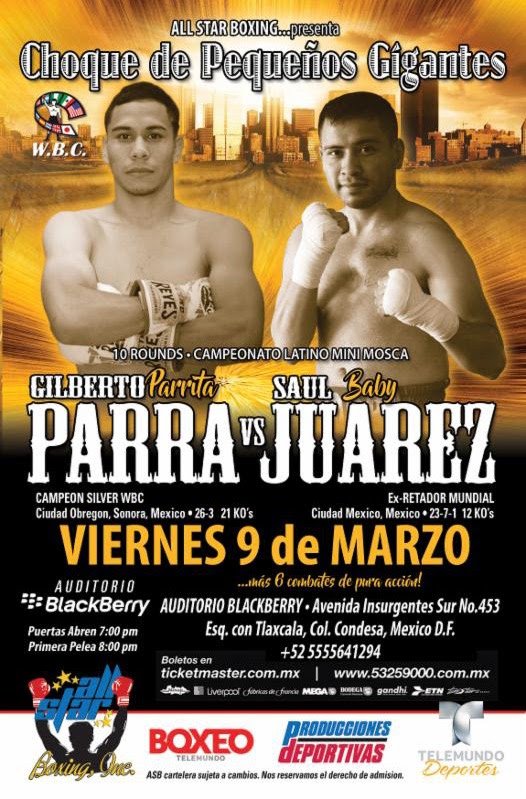 Abraham "Choko" Rodriguez 109 Vs. Alejandro "Pacquiao" Villasenor 108 ( 8 Rounds Jr. Flyweights)
Jerson Aguilar 130 Vs. Adrian "Gallero" Pacheco 129 ( 6 Rounds Jr. Lightweights)
Martin Escamilla 130 Vs. Eduardo "Zurdo" Cruces 131 ( 6 Rounds Jr. Lightweights)
Kevin Salgado 155 Vs. Jose "La Maquina" Briceno 152 ( 4 Rounds Jr. Middleweights)
Ivan "Bam-Bam" Hernandez 125 Vs. Miguel Angel "Estaca" Sandoval 122 ( 4 Rounds Featherweights)
Orlando Carrillo 153 Vs. Luis Franco 152 ( 4rounds Jr. Middleweights)
Venue: Auditorio Blackberry, Mexico City, MX
First Fight: 8:00 PM
Promoter: All Star Boxing, Inc. in association with Productions Deportivas
TV: Telemundo Live 11:35 PM
The "Boxeo Telemundo Ford" season will be broadcast live on Telemundo at 11:35pm and live streamed on Telemundo Deportes En Vivo app and will be complemented with extensive news and content on TelemundoDeportes.com, including access to the weigh-in and exclusive behind the scenes content. "Boxeo Telemundo Ford," the longest-running boxing program on U.S. Spanish-language television, debuted in 1989. Since then it has showcased more than 50 world champions, including Erik Morales, Felix Tito Trinidad, Wilfredo Vazquez, Daniel Zaragoza, Saúl "Canelo" Álvarez, Oscar "Chololo" Larios and Israel "El Magnífico" Vazquez, earning a reputation as the show "where champions are born." "Boxeo Telemundo Ford" wrapped up 2017 with its highest fourth quarter ever among adults 18-49 with 227,000 and 480,000 total viewers, according to Nielsen.
WEIGHTS FROM SAN ANTONIO, TX
4-ROUND MAIN EVENT
Jesse Rodriguez 114 vs. Jose Casiano TBA
Patrick Clarke 168.5 vs. Taylor Saucedo 169.5
Tyrrel Herndon 231 vs. Brandon Glanton 211
Steven Ramos 159 vs. Jacob Landin 160
Aaron Morales 120.5 vs. Jorge De Leon 120.5
Ben Guerrero 123.5 vs. Vincente Loredo 127
Angel Alejandro 120.5 vs. Jose Elizando 120.5
Ringside tickets priced at $100, and general admission $30, are on sale now and can be purchased by calling (210) 449-5599 or (210) 322-9974. The Mi Mercardo Event Center is located at 227 New Laredo Hwy, San Antonio, TX. Doors open at 6:30 PM, first bell at 8:00 PM.