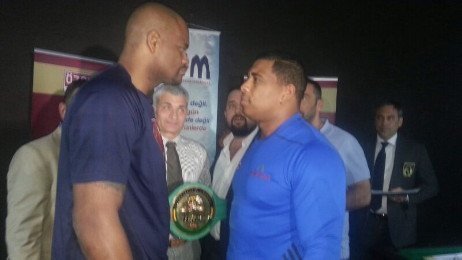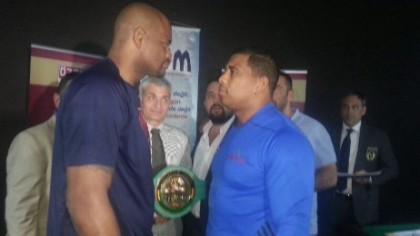 Tomorrow (Saturday, March 22nd) Cuban Olympic gold medalist Odlanier Solis and US veteran Tony "The Tiger" Thompson collide in Tekirdag (Turkey) for the vacant WBC international heavyweight championship. At today's official weigh-in Solis brought 257 lbs. (116.7 kg) to the scale while Thompson weighed in at 266.5 lbs (120.9 kg).
Asked if he felt a specific pressure before this important fight, Solis stated: "I never put myself under pressure. If I worried about the future I couldn't perform the way I do. I take every fight and every opponent serious. Thompson is no difference. I go in there to beat him and to continue my way to become heavyweight champion of the world."
When Tony Thompson was asked if he felt old at age 42, "The Tiger" answered: "I'm not getting older, I'm getting sexier every day! I know that I still have it. And after Saturday night Solis will know that as well. My age is no factor – but my experience might be. I will shock Solis and do to him what I did to David Price."
In the co-feature 21-year-old heavyweight prospect Agit Kabayel will face his toughest test so far in Nigerian Gbenga Oloukun for the vacant WBC Mediterranean championship. Kabayel weighed in at 237 lbs. (107.5 kg) while his opponent was slightly heavier at 241.5 lbs (109.5 kg). While Kabayel vs. Oloukun is officially the co-feature for Solis vs. Thompson the fight might end up stealing the show because both men are known as heavy hitters who will probably just go in there and bang it out. "I know that Oloukun is a strong guy but I always focus on myself", says Kabayel. "He has to adjust to my style not the other way around. As long as I am at my best nobody can beat me."
The show in Tekirdag, Turkey, will be promoted by ARENA Boks Sportif / Ahmet Oner and broadcasted live in Turkey (Kanaltürk), the UK (Boxnation), Germany (sportdigital in association with Sky) and about 50 other countries worldwide. The live broadcast starts at 9.35pm (21.35h) Central European time.