NEW YORK, NY (January 18, 2013)- WBO number-one ranked Jr. Lightweight Juan Carlos "Mini" Burgos (30-1, 20 KOs) and Roman "Rocky Martinez (26-1-1, 16 KOs) stepped onto the scales earlier today at the official weigh in for their WBO world title bout that is set to take place tomorrow, Saturday, January 19th at the Theater at Madison Square Garden in New York City. The match up will be part of a championship tripleheader televised LIVE on HBO Boxing After Dark® at 9:45 p.m. ET/PT.
JUAN CARLOS BURGOS – 129 lbs.
ROMAN MARTINEZ – 129.5 lbs.
###
Weights: Campillo – Kovalev – NBCSN 1/18/13 Fight Night
10 Rounds- NABF Middleweight Title
Elvin Ayala WT:159 vs. Curtis Stevens WT:159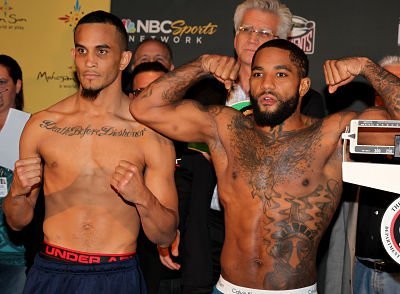 10 Rounds – Light Heavyweight
Gabriel Campillo WT:175 vs. Sergey Kovalev WT:175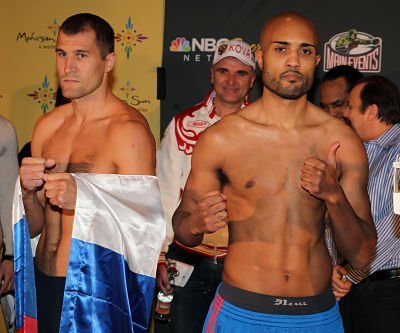 4Rounds- Heavyweights
Jarrell Miller WT:286 vs. Joey Dawejko WT:242.75
6 Rounds-Super Featherweights
Chip Perez WT:130.25 Jason Sosa WT:130.75
8 Rounds- Super Middleweights
Vladine Biosse WT:167 vs. Marcus Upshaw WT:164
8 Round-Lightweights
Edwin Cotto WT:132.25 vs. Ian James WT:134
4Rounds Welterweights
Jimmy Williams WT:153 vs. Noel Garcia WT:158
6 Rounds – Bantamweight
Shelito (Michelle) Vincent WT:121 vs. Nydia Feliciano WT:121.5
Photo Credits: Rich Graessle/Main Events
BOUTS SUBJECT TO CHANGE