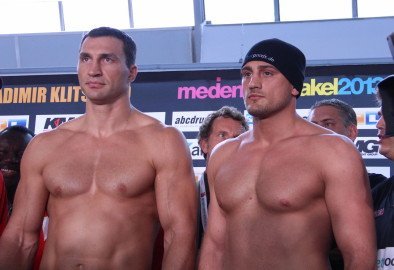 (Photo credit: K-MG) IBF, WBA, WBO, IBO and "The Ring Magazine" World Heavyweight Champion Wladimir Klitschko and Italian contender Francesco Pianeta stepped on the scales today.
Wladimir Klitschko: 113 kilograms
Francesco Pianeta: 109 kilograms
A video and pictures of the Weigh-in are available on the Klitschko facebook and Google+ page.
In the co-feature of the event Mike Perez (Ireland, 18-0-0, 12 KOs) will be fighting in a 10 round bout against Travis Walker (USA, 39-9-1, 31 KOs).
The international broadcast starts with Christina Hammer (Germany, 13-0-0, 7 KOs) versus Zita Zatyko (Hungary, 15-0-1, 11KOs) in a WBO Female Super Middleweight Championship at 9:07 (CET).
The undercard for tomorrow's fight night weighed-in at (all kilogram):
Mike Perez 106.5 vs. Travis Walker 118 – Heavyweight.
Christina Hammer 73.5 vs. Zita Zatyko 75.5 – Super Middleweight
Hizni Altunkaya 93 vs. Gyuli Bozai 89 – Cruiserweight
Moritz Stahl 77 vs. Oleg Fedotovs 77 (swing bout) – Super Middleweight
The show will be broadcast live and exclusively on RTL in Germany, on EPIX in the US, and in more than 150 countries worldwide. The EPIX broadcast starts live at 5 pm EST.
The WBA/IBF/WBO/IBO Heavyweight Championship is promoted by K2 Promotions and KMG.
Remaining tickets for the fight night are available on www.saparena.de and via phone under +49-621-18190-333.