WEIGHTS FROM QUEENS, NY
Vinny Maddalone 231 1/2 vs Byron Polley 268 ½
Angel Garcia 134 vs. Victor Galindo 133
Neuky Santalises 131 vs Micah Branch 132
Rob Garris 171 vs Abdellah Smith 174
Heather Hardy 122 vs. Ivana Coleman 123 ½
Bryant Cruz 129 1/2 vs. Jonathan Caban 130
Frank Galarza 152 vs Roberto Lopez 152
Juan Dominguez 121 vs. Jhon Alberto Molina 120
VENUE: Resorts World Casino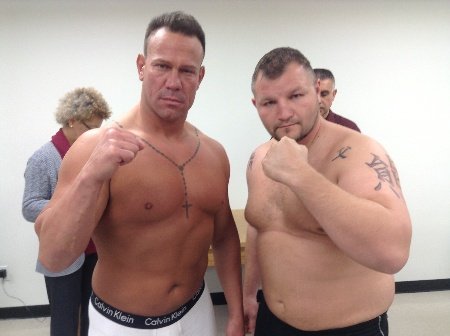 Promoters: New Legend Boxing, Old World Boxing, W.O.N Promotions (Main event in association with Joe DeGuardia's Star Boxing)
1st bell: 6 pm
Tickets prices are $50 General Admission, $125 Ringside and $225 VIP (Includes Open Bar & Buffet) and can be purchased by calling New Legend Boxing 718-487-4474 and/or logging on to www.NewLegendBoxing.com
IABA UPDATE (2012 NATIONAL INTERMEDIATE CHAMPIONSHIPS SEMI-FINALS – FRIDAY)
Irish Amateur Boxing Association
The first session of National Intermediate Championships semi-finals were completed at Dublin's National Stadium tonight.
Visit www.iaba.ie for reports and pictures from the Championships.
The second and final session of semi-finals will be decided tomorrow, December 8th. Boxing begins at 2pm.
For live streaming off the Championships visit www.iaba.ie and click on "Live Boxing" on front page of site.
Saturday's weigh-in will be held between 8.30am and 9.30am at the National Stadium.
The 2012 National Intermediate finals will be decided on Friday, December 14th.
National Intermediate C'Ships S/Finals National Stadium Dublin
Friday December 7th (6pm)
48kg:Jonathan McCabe (Holy Family Drogheda) beat Samuel Gavin (Bay City) 4-3
48kg:John Cassidy (Illies Golden Gloves) beat Blaine Dobbins (St Josephs Derry)W/O
51kg:Aidan Metcalfe (Crumlin) beat Jamie Higgins (Ryston) 19-13
51kg:Stephen Treacy (Ryston) beat Ricky Nesbitt (Dealgan) 21-14
54kg:Gary McKenna (Old School) beat Myles Casey (St Francis) 27-19
54kg:Carl McDonald (Golden Cobra) beat Sean Higginson (St John Bosco) 22-9
57kg:Lyndsey Doyle (Gorey) beat Stephanie Quaile (Drimnagh) 29-25
57kg:John Nevin (Cavan) beat Ryan Peake (Ballyhaunis) 8-6
57kg:Graham Keating (St Saviours OBA) beat Joel Scullion (All Saints) 20-14
60kg:Niamh Ball (Trojan) beat Ciara Dowling (Paulstown) 20-17
60kg:Joanne Lamb (Carrickmacross) beat Shauna O'Keefe (Clonmel) 19-15
60kg:Jason Conroy (Crumlin) beat Patrick Nevin (Sparticus) 15-13
60kg: Dean Walsh (St Ibars/Josephs) beat Martin Noonan (Riverstown)22-12
Saturday December 8th (2pm)
64kg:Paul Ardle (Dealgan)V Sean Magee (Ligoniel)
64kg:John Stokes (Mulhuddart) v Sean Duffy (Holy Trinity)
66kg;Shauna Flynn (Cavan) v Debbie Reilly (Titans)
67kg:Aaron McGrane (Esker) v Noel Murphy (Macroom)
67kg:Patrick Cawley (Baldoyle) v MartinWall (Crumlin)
70kg:Lisa Browne (Eagle) V Robin Smith (Leinster)
71kg:Brian Walsh (Baldoyle) v Kieran Forde (Monivea)
71kg:Emmet Brennan (Corinthians) v Petru Ursu (Lucan)
75kg:Ciara Mulcahy (Dungarvan) v Mairead Whitely (Paulstown)
75kg:Paul Kelly (Twin Town) v Taylor McGoldrick (Holy Trinity)
75kg:Michael Reilly (Holy Family Drogheda) v Stephen Broadhurst (Dealgan)
81kg:Eamon Tighe (Ballinacarrow) v Eamon Walsh (St Annes)
81kg:Liam Green (Ballinacarrow) v Sean McGlinchey (Oakleaf)
85kg:Stephen O'Sullivan (Illies Golden Gloves) v Phelim Halligan (Claremorris)
85kg:Cillian Myler (Glasnevin) v Thomas Carthy (Corinthians)
91kg: Patrick Lawrence (Palmerstown) v Stephen Stokes (Twin Towns)
91kg: Paul Byrne (Holy Family Drogheda) v Gary Sweeney (Ryston)
91+kg:James Leahy (Bay City) v Jason Barrons (St Patricks Newry)
91+kg: Dean Gardiner (Clonmel) v Paul Courtney (Palmerstown)
GOLDEN BOY PROMOTIONS TO GIVE L.A. AREA BOXING FANS AN UNPRECEDENTED HOLIDAY GIFT BASKET FILLED
LOS ANGELES (December 7, 2012) – Golden Boy Promotions comes home for the holiday on Saturday, December 15 with an extravagant gift-basket filled with boxing presents for Los Angeles area fight fans and an unprecedented event at Los Angeles Memorial Sports Arena headlined by British superstar Amir "King" Khan making his ring return against Carlos Molina live on SHOWTIME®.
The special day and night of boxing includes free tickets to see local World Champion Leo Santa Cruz's title defense against undefeated challenger Alberto Guevara, the professional debut of Los Angeles' 2012 U.S. Olympian Joseph Diaz Jr. and a free Fanfest taking place outside the L.A. Memorial Sports Arena. Santa Cruz vs. Guevara and Joseph Diaz Jr.'s bout against an opponent to be named will be broadcast live on CBS® (as previously announced), the first live boxing event on CBS Television in 15 years.
As an added gift, fans who present ticket stubs from the CBS event when purchasing tickets for the SHOWTIME event will receive a 20% discount on tickets purchased. There is a limit of one discounted purchased ticket per ticket redeemed while supplies last.
Golden Boy Promotions will also be sponsoring a toy drive throughout fight week and, in order to help get fans into the holiday spirit, will give two tickets to the Khan vs. Molina fight to anyone who donates an unwrapped, unopened toy with a value of $20.00 or more (two tickets per toy, per person while supplies last). Locations for fight week events and toy drop off locations are listed below.
In addition, Golden Boy Promotions President Oscar De La Hoya will distribute the donated toys, as well as 2,500 toys purchased by the Oscar De La Hoya Foundation, to pre-selected underprivileged families from three Green Dot Public Schools. The giveaway, which will be hosted by the 10-Time World Champion De La Hoya and a special guest, will take place on the morning of Saturday, December 15 outside the main entrance of the L.A. Memorial Sports Arena.
Finally, fight festivities offer additional fun for fans and families with a free of charge fanfest which run from approximately 3:00 p.m. until approximately 5:00 p.m. and will include music, a Corona beer garden, autograph sessions with some of boxing's biggest stars, games, boxing memorabilia, food, a visit from Santa Claus and more. The fanfest will take place at the L.A. Memorial Sports Arena's main entrance at 3939 S. Figueroa St., allowing fans to attend the free afternoon session of boxing and then easily return later that evening to watch the evening's fights.
All of this before Amir Khan and Carlos Molina take center stage for what has become one of LA's biggest fight cards from top to bottom and the culmination of a spectacular all-encompassing and all-inclusive boxing event.
"The holiday season is a great time to remember that giving is just as important as receiving," said Oscar De La Hoya, President of Golden Boy Promotions. "With our fanfest, toy drive and giveaway, free CBS fights and a great night of SHOWTIME fights at the Los Angeles Memorial Sports Arena on December 15, I think we're all going to walk away filled with the amazing feeling of the holiday spirit. I am looking forward to distributing the toys to those families who need them most. There will be a surprise that morning too, so don't miss it."
"This is about giving and giving more as we end the year and the holidays draw near," said Richard Schaefer, Chief Executive Officer of Golden Boy Promotions. "We want to show our appreciation to our loyal fans and their families who have supported all of our West Coast shows throughout the year. They can come all day, enjoy the free early fights, go to the fanfest and then come back for more action later that night. Add in the star boxers in compelling and competitive fights all televised between CBS and SHOWTIME and you have a recipe for holiday goodness."