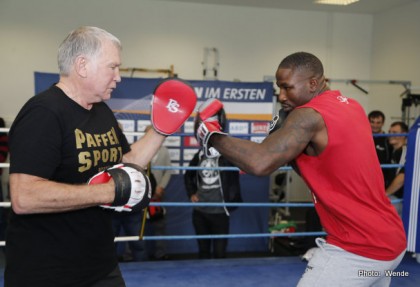 SAN JUAN, PUERTO RICO- World Boxing Organization (WBO), by president Francisco "Paco" Valcarcel, announced today the referee and judges who will work this Saturday, June 8, in the cruiserweight world title fight between the champion Marco Huck and the interim champion Ola Afolabi, to be held at the Max Schmeling Halle in Prenzlauer Berg, Berlin, Germany, in a Sauerland Event presentation.
For this third fight involving Huck (35-2-1, 25 KOs) against Afolabi (19-2-4, 9 KOs), when Huck will defend for the 12th time his WBO 200 pounds belt, the referee is Eddie Cotton from United States.
Meanwhile, the judges for the Huck-Afolabi bout will be John Madfis from United States, Deon Dwarte from South Africa and Lahcen Oumghar from The Netherlands.
The WBO supervisor for this fight will be John Handelaar.
Huck and Afolabi have been faced two times. In their first fight, Huck beat Afolabi by unanimous decision on December 5, 2009, while on May 5, 2012, the second bout between Huck and Afolabi ended in a majority draw.