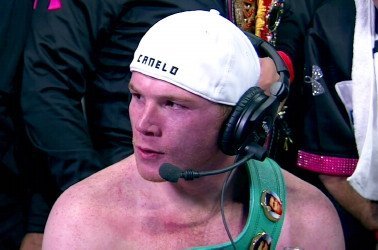 By José Sulaimán: Security-Imposed Downtime Contemplation
What a journey! After the big fight between Canelo-Trout which thrilled 40,000 fans, I traipsed to the San Antonio Airport for my trip to Los Angeles.
We were well over an hour seated in the plane before, for mysterious reasons and without a clear explanation, the flight was canceled.
After 32 hours in airports, I finally reached Los Angeles, which had been closed as a precaution … they said.
The United States has been profoundly shaken by attacks that have caused many deaths and excruciating pain – resulting in appreciably heightened security as a precaution to try to avoid a repetition of acts and terrible scenes which recently occured in Boston. Three people killed and 282 injured.
During that prolonged wait, I read an article which stated that international boxing has begun a serious decline in popularity. It claimed that many promoters who previously have done so much for boxing, are gone, or have ceased functioning as such. This pondering drew me into deep thought during which I realized another home truth.
Las Vegas is suffering a decline in its boxing activity. During recent weeks we've seen fights that in other times would have been held in Las Vegas but were, and are, scheduled for New York, Mexico, Buenos Aires, San Antonio, London, Los Angeles, Tokyo and in Macau.
Perhaps the time has come to return to the boxing arenas. Maybe the casinos no longer provide passage, rooms, and food for the entire card, or the exacting ticket expectations of their wealthy clients.
Modern boxing has become a television show; casinos, near monopolies – to which only the privileged few have access to enjoy.
A boxing only of "smoke" luminaires, which then all dissolve into poverty. Boxing promoters make liberal use of technology facilities for the enjoyment of viewers, but they can forget the real public who love their boxing and also the boxers, so many of whom eventually end up hungry all over again.
In reality, boxing is not really losing popularity. It reflects and registers large inflows and constant sold-out arenas without casinos. These events are attended by true fans. What boxing really needs is idols. They sell out the arenas, with or without TV. With or without casinos.
Saul "Canelo" Alvarez crystalized and encapsulated this atmosphere at the Alamodome, San Antonio. An incredible 33,000 tickets were snapped up in record time and as demand continued to surge, organizers had to open up two additional swathes of seating for 3,000 more fans. It is said that this fight reached third place in record viewings.
Sergio Martinez attracted almost 50,000 fans at the cavernous José Amalfitani Stadium of the soccer team Velez Sarsfield Club in Buenos Aires, Argentina.
Floyd Mayweather has sold out all tickets in Las Vegas. Danny Garcia did the same in New York. Julio Cesar Chavez Jr. will do likewise when he returns to the ring.
I think it is time to awaken from our long slumber and arise, seeking global union, in this world of boxing. It is time to impose upon the infinite monopolies at least some practical measures to seek protection for the boxer, so he can live a dignified life after his retirement.
The passion and the brave heart within us beats all the more strongly when we feel wronged or offended – when we fight to defend what we believe in, for justice and against evil.
Fight will must … and fight we will!
Thank you for reading my thoughts.