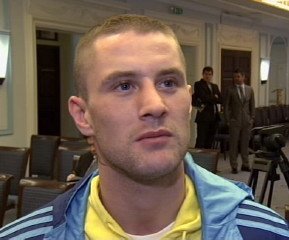 IBF World Lightweight Champion Miguel Vazquez has released a statement confirming that he was struck down by a viral infection and had to stop training for his fight against WBO World Champion Ricky Burns, that caused the fight originally scheduled for Saturday 16th March at Wembley Arena to be postponed.
Promoter Frank Warren announced yesterday that the show will now take place on Saturday 20th April with Burns v Vazquez and Nathan Cleverly's WBO World Light-Heavyweight title defence against Robin Krasniqi joint-headlining the card.
In the statement that can be found on Fightnews.com Vazquez apologises for the problems caused by the postponement and is looking ahead to the new date.
Vazquez said, "I'm very sorry about this situation. We were at the height of the preparation that was so intense my body was in a great physical condition, strong and fast. There were weeks of total dedication and preparation, but the infection I suffered in the stomach was very strong, I even laid down in bed for a week…but it was the best thing. My company told me that the fight will be rescheduled and in a few days more they'll tell me the date."
Warren added, "Over the last few days there have been false rumours and inaccurate information circulating as to why Vazquez withdrew from the Burns fight. Yesterday I released the doctors certificate to confirm that Vazquez had suffered a viral infection and now Vazquez has released a statement to confirm this. I hope that this now puts an end to the matter once and for all and we can focus on the the new date of Saturday 20th April. I was as disappointed as the fans when I had to postpone, but the most important thing is that the show is still on, Ricky still has his unification fight against Vazquez and Cleverly still defends against Krasniqi. It's a tough fight for Ricky and as respected journalist Graham Houston said in the latest edition of Boxing Monthly 'Ricky Burns and Miguel Vazquez is a genuine fight of the highest order'. Cleverly also has a very hard fight, but if wins he can then look towards a showdown with the winner of Tavoris Cloud and Bernard Hopkins this Saturday."