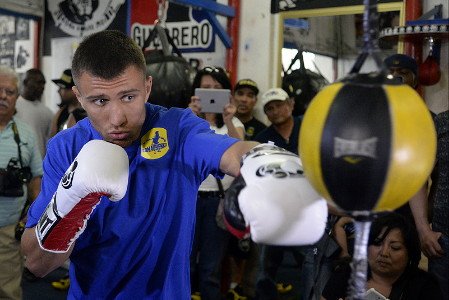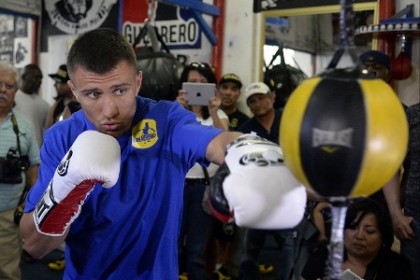 Tonight at 9PM EST/6PM PST, "JEK III Productions" presents a "NEW…WBO Featherweight Champion" 3-Hour edition of "The Pugilist KOrner's: Weekend Wrap"!!
Pugilist KOrner listener line: 718-506-1506
Throughout the first forty minutes of the program, The Pugilist KOrner team will discuss 2-Time Olympic Gold Medalist and the new WBO Featherweight Champion, Vasyl Lomachenko's, eye opening performance against highly touted and previously undefeated Gary Russell Jr. in Saturday night's co-main event at the StubHub Center in Carson, California. JK and Joseph will discuss the future of both fighters and potential match-ups in the packed 126 pound weight division.
The outspoken duo will also talk about Robert Guerrero and Devon Alexander's respective efforts in two very entertaining and unexpected gems, in the venue that is now being labeled as "The California Thunderdome", against Jesus Soto Karass and Yoshihiro KamegaI individually. The PK Team will examine the big Robert Garcia/Alex Ariza split, as well as Floyd Mayweather Jr's next opponent, which has been slated for September 13th.
At the forty minute mark of the show, "The Pugilist KOrner's: Weekend Wrap" is honored to feature elite level trainer Ronnie Shields for entire 60 minute segment. The Plex Gym leader will talk about a potential super fight between Vasyl Lomachenko and Guillermo Rigondeaux, as well as the future path for Gary Russell Jr. Coach Shields will also expound on the split between Robert Garcia and Alex Ariza, and how this could affect every competing fighter at the Oxnard Boxing Academy.
In the final hour of the evening, we're proud to feature expert trainer and boxing manger James Gogue for an entire sixty minute segment as well!! "The Gogue" will explain how Vasyl Lomachenko negated all of Gary Russell Jr's strengths, and what both fighter's could have done more effectively during last night's co-main event. The three decade fight mentor will also analyze next weekend's main event from Omaha, Nebraska, between Yuriorkis Gamboa and Terence Crawford, as well as a potential match-up between Vasyl Lomachenko and Nonito Donaire.
Tonight's program will be hosted by radio producer and commentator James E. King III, and boxing writer and ring announcer Joseph Herron.
Pugilist KOrner listener line: 718-506-1506
Tune in tonight at 9PM EST/6PM PST!!
PHOTO BY Hogan Photos