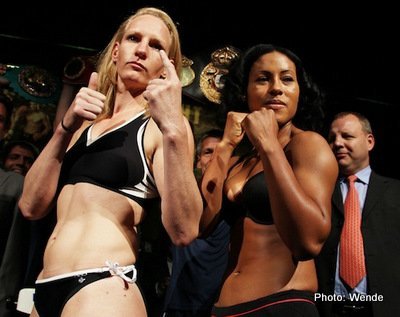 Here are the weights from Frederikshavn ahead of tomorrow´s Nordic Fight Night at Arena Nord.
WBA Intercontinental Middleweight Title:
Patrick Nielsen: 72,3 kg
Jose Yebes: 72,4 kg
WBA, WBC, WBO Female Welterweight Titles:
Cecilia Braekhus: 66,3 kg
Anne Sophie Mathis: 66, 2 kg
Ulli Wegner: "Toughest fight ever for Braekhus" -The stage is finally set for the "Pacquiao-Mayweather" of women´s boxing. WBA, WBC & WBO Female Welterweight Champion Cecilia Braekhus (20-0, 5 KOs) and French KO queen Anne Sophie Mathis (26-2, 22 KOs) today arrived in Frederikshavn. On Saturday night, they will collide at the Nordic Fight Night at Arena Nord.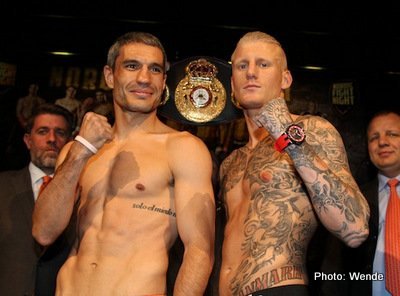 The First Lady will be counting on some special support. Nine-time German coach of the year Ulli Wegner, who also trains WBO Super-Middleweight Champion Arthur Abraham, WBO Cruiserweight Champion Marco Huck and IBF Cruiserweight Champion Yoan Pablo Hernandez, will be in her corner. "Cecilia is the best female boxer in the world and she will prove it again on Saturday night in the toughest fight of her life," Wegner said at the final pre-fight press conference at Arena Nord. "We know Mathis is a KO puncher. However, when she punches, she makes a lot of mistakes and it will be crucial for Cecilia to make her pay. Mathis likes to fight, she will try to make it a war, so Cecilia needs to use her superior boxing skills to beat her. It will be a sensational fight for the fans and I am convinced that we will be victorious."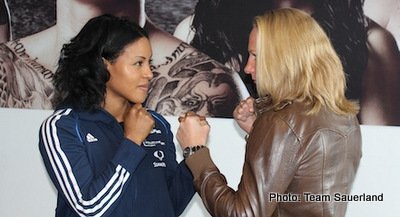 Braekhus was also optimistic. "I have been waiting for this fight for a long time, I am glad the time has finally come. The training went very well, I am ready to defend my titles on Saturday."
Mathis said she was equally happy with her preparation. "I am fit and ready," she stated. "We have worked to improve my speed. I know Braekhus is a good boxer but I am 100 percent sure I will win."
Said promoter Nisse Sauerland: "We have sold over 2000 tickets and it's getting more and more every day. There will be so many Norwegian fans in Frederikshavn on Saturday to support Cecilia, it will be an unforgettable evening. And make no mistake, for a fight like this, she needs every bit of support she can get because Mathis is a hell of a fighter. But Cecilia knows what she has to do to beat her."