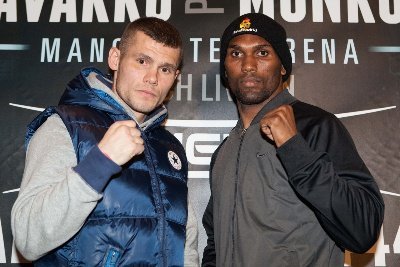 Photos: Mark Robinson/Hatton Promotions – The undercard press conference for Saturday's sell-out Manchester Arena show topped by Ricky Hatton's comeback fight Vyacheslav Senchenko took place today at the Hard Rock Café in the city centre.
RICHARD POXON (Hatton Promotions, Director of Boxing)
"This is the best undercard we have put together and the title fights are all top quality. They are top quality and eagerly awaited domestic fights."
MARTIN MURRAY v JORGE NAVARRO (vacant WBA interim middleweight title)
MARTIN MURRAY
"People have been talking about me boxing Sergio Martinez, but I am not even thinking of that. My manager Neil Marsh keeps that talk away from me. I have a very hard fight this weekend and just want to get a win. Navarro is young, ambitious and can punch."
SCOTT QUIGG v RENDALL MUNROE (vacant WBA interim super-bantamweight title)
SCOTT QUIGG
"It was frustrating what happened that our first fight ended in a technical draw, and I'm just glad it has been made again. I can't think of anything bigger in boxing than to be on Ricky Hatton's undercard. For me to say my fight might end up fight of the night is great."
RENDALL MUNROE
"I am looking forward to the fight and training has gone good. I do my talking in the ring and I am going to go out and do the buisness. People are tipping Scott because he is younger but look at the higher quality opponents I have faced."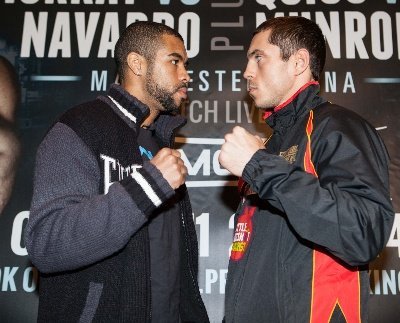 SERGEY RABCHENKO v CEDRIC VITU (European light-middleweight title and vacant WBC silver belt)
SERGEY RABCHENKO
"Training has gone very well in Manchester with Ricky Hatton training me. My opponent has great experience, but I have the skills and technique to win. My tactics are spot on."
GARY BUCKLAND v STEPHEN FOSTER JR (British super-featherweight title)
GARY BUCKLAND
"I am not under-estimating Stephen because he is a very good box-fighter. I have got to go in there and do what I normally do. We were going to fight him when he was European champion, but he lost to Ermano Fegatilli. We have been after this fight for two years."
STEPHEN FOSTER JR
"With hindsight I shouldn't have gone through with the Fegatilli fight because I wasn't right at all. This camp has gone really well with Maurice Core training me. I know I am in for a tough night but I am confident."
Also in action are Hatton Promotions hopefuls Ashley Theophane, Zhanat Zhakiyanov James Dickens, Adam Etches, Scott Jenkins, Mitch Buckland and Sam O'Maison.
Ricky Hatton vs. Vyacheslav Senchenko will be shown live on Primetime, Channel 498 on Sky and Virgin-On-Demand, on Saturday 24th November for only £14.95. To order call 0871 200 4444 or go online to www.primetimeboxing.co.uk.
###
No Laughing Matter
Inverness Heavyweight Gary "The Highlander" Cornish will box experienced Bulgarian Yavor Marchinchev on the Norscot sponsored Chris Gilmour promotion at the Drumossie Hotel, Inverness, on Friday 7th December 2012.
The skilled Bulgarian is coming to the Highlands having won his last 3 contests. Garys Manager Tommy Gilmour says:
"Marinchev boxes under the nickname "The Hyena" but this is no laughing matter. The Bulgarian lost a points decision against David Price, the Current British & Commonwealth Champion so we cannot underestimate him. Gary has shown great progress during 2012 and hopes to finish the year on a high."
Gilmour stated
"2013 will be a big year for "The Highlander" as we move closer to the dream of Scotland having a Heavyweight Champion"
Cornish, who is making his 3rd appearance at the Drumossie will be joined by local favourite Alastair "Jasper" Chisholm in a night to support Caley Jags Together.
Jasper is hoping to get back to his winning ways after his recent highly controversial loss to Paisleys Craig Kelly. Jasper, whose style excites the fans, said:
"I was disappointed in the loss to Craig but it was a great contest, perhaps had I listened more to my corner then I may still have an unbeaten record. The main thing now is focussing on getting back to winning"
The 3rd fight on this Christmas Cracker sees Glenrothes based British Masters Champion Andrejs Podusovs making his1st appearance in Inverness. Andrejs, who recently defeated Newcastles Dougie Curran for the Title was delighted to be added to the show, he said:
"I have attended the shows in Inverness as a spectator and enjoyed the atmosphere, it will be amazing to be introduced in my fight as a Champion and I hope to put on a great performance"
Tickets are priced at £1000 for a table of ten or £100 per person and include a champagne reception and three-course dinner. Contact Laura on 07769 697899 / laura@ictst.co.uk for further information.